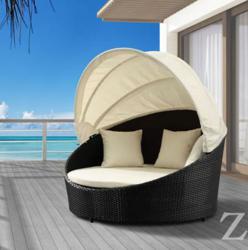 Outdoor beds that are made in multiple pieces can also be used to create a complete set of outdoor furniture, as well as a relaxing lounge for two.
(PRWEB) July 10, 2013
HomeThangs.com – the Online Home Improvement Store has made their goal to deliver the right product to the consumer. With that in mind, shopping and home design tips, as well as special product selections are being introduced.
Summer has finally started in earnest, and the hot, hot days of true summer are the perfect time to soak up the sun, relax, and unwind. Having the right outdoor furniture can go a long way to improving the experience, and one of the best pieces to really relax in outside is a big, plush, cushy outdoor bed. HomeThangs.com has released a simple guide to getting the most out of this unique piece of patio furniture.
Outdoor beds aren't like traditional beds – that is, they don't come in twin, queen, and king sizes, and are typically oval or scallop shaped rather than rectangular and longer and wider than the average lounge chair. Often made with a half-circular mattress about as wide as a queen mattress and more than fifty inches deep, outdoor beds offer plenty of room to lay down and stretch out in either direction, or curl up and lean back against the sofa-style back.
Maybe one of the most important features to look for in an outdoor bed is a shade canopy, especially if the bed will actually be used for sleeping. These come in a few different forms, from convertible top style cloth canopies to large umbrellas fastened to the middle of the bed for a nice tropical flair. A good cover should shade the bed completely to prevent exposure to the sun, but also be easy to lower or remove entirely.
Unlike a lot of other patio furniture, outdoor beds can be quite large, and often don't fold, collapse, or otherwise store away easily. This can be a pretty significant problem in any but the mildest of climates, as it raises the important question of what to do with it in the off season. Of course, any piece of furniture can be covered, in order to reduce the off-season footprint of an outdoor bed, look for one that's made in two or more pieces. The ottoman portion can often be flipped and set on top of the main bed to take up a little less space. Having a detached ottoman is also nice for taller people, as the leg rest can be extended to accommodate longer legs.
Outdoor beds that are made in multiple pieces can also be used to create a complete set of outdoor furniture. When pushed together, all the parts of a larger set form an expansive, comfy outdoor bed for two. But pulled apart the pieces transform into a sofa for three, additional seating for two, and a side table. This type of layout is especially nice for those who spend a lot of time poolside but only entertain occasionally, or who have limited deck space.
As with any outdoor furniture, it's important to take into account the fact that outdoor beds will be outside. But while many outdoor bed frames are made with all-weather material like resin wicker or powder coated aluminum, the big, thick cushions require a little more thought. Look for a fabric like Sunbrella that's resistant to fading, mold, and water damage, and that's easy to clean. If the bed is destined for poolside lounging, double check with the manufacturer that the cushions can handle the moisture and drain well, or that the material covering them is highly water repellant.
Outdoor beds are very, very big, but it's important to remember that this isn't just an issue in the off season. While a multi-piece outdoor bed can be used as the sole piece of patio furniture in a pinch, that doesn't mean they're compact. Big daybeds look best when they have a little room to work with – after all, a big, beautiful, cushy island-style bed will definitely be a focal point of an outdoor space, so try not to crowd it with other furnishings.
To find out more about outdoor beds, read the full article here, or check out more great designs from Caluco and Zuo Modern.
HomeThangs.com is not only a home improvement superstore, it also provides expert design tips and a comprehensive shopping guide, taking the ideas from professional interior designers, and offering tips to the consumers on how to pick the products to best suit their needs.