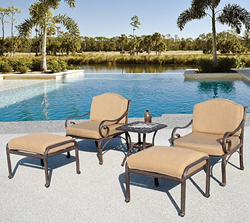 Armchair style outdoor chairs are perfect for curling up in, and are usually paired with matching ottomans, making them ideal for an outdoor reading nook.
(PRWEB) June 25, 2014
HomeThangs.com – the Online Home Improvement Store has made their goal to deliver the right product to the consumer. With that in mind, shopping and home design tips, as well as special product selections are being introduced.
Most people enjoy summer for the entertaining – the backyard barbecues, pool parties, and long summer evening spent outside with friends and family. Most outdoor furniture reflects this: big dining or bar sets and outdoor sofas or sectionals designed to seat a crowd. But for those who would rather stretch out in the sun with a good book than host a potluck, big, sprawling outdoor furniture is often overkill. HomeThangs.com has introduced a guide to slightly cozier outdoor furniture for one.
The vast majority of outdoor chairs fall into one of two categories: practical or sectional. Practical chairs are usually made of plastic, metal, or sometimes acrylic, and are designed with straight backs and no cushions. In other words, these chairs are purely functional, and work best paired with a table. Sectional chairs are bigger and comfier with thick cushions, but are usually only sold as part of larger sets or are designed to be pushed together to form a sectional. Unfortunately, neither of these make great reading chairs. Instead, look for a third, rarer type of chair that's more like a classic indoor armchair.
These armchair-style chairs are perfect for curling up in, with cushioned backs and seats and comfortable arm rests. They're also usually paired with matching ottomans, making them ideal for an outdoor reading nook. Outdoor arm chairs can be made of resin wicker or metal, and usually feature heavy duty weather- and water-resistant fabric on the cushions, meaning they're durable enough to leave outside.
More traditional pool loungers are great for soaking up a little sun, and are one of the few options that make it possible to stretch out fully. That said, these too come in a range of qualities, from the classic slatted, strappy plastic lounge to cushier seats that are better for prolonged lounging. Big, plush loungers are the most comfortable, but for those who plan to read between dips in the pool, it's worth looking for something that will stand up to water better, like plastic, resin wicker, or mesh.
Recliners and rockers are a little more difficult to find, but are absolutely perfect for an outdoor reading nook. Old fashioned rockers are made for sitting, relaxing, and reading, while more modern outdoor recliners offer the functionality of bulkier ottomans in a fraction of the space.
Making a great outdoor reading nook isn't just about the chair, though. Any good reading nook, indoors or out, has to have at least a small table – somewhere to put down a book, a glass, or a snack. Indoors, that might mean an accent table, but outside Chinese-style ceramic garden stools are a better fit. These sturdy, colorful pieces are petite enough to stand next to a chair in even the smallest spaces while offering just enough surface space to hold the necessities.
For marathon outdoor reading sessions, it's worth investing in a patio umbrella for sun protection. This is less important for reading nooks placed under an awning or in an enclosed porch, but for a chair that's out in the open, sun protection is an absolute must-have. Some lounges and outdoor beds come with their own built in umbrellas or canopies, but otherwise a basic patio umbrella will do the trick, too.
For more ideas about building an outdoor reading nook for one, check out the full article here.
HomeThangs.com is not only a home improvement superstore, it also provides expert design tips and a comprehensive shopping guide, taking the ideas from professional interior designers, and offering tips to the consumers on how to pick the products to best suit their needs.