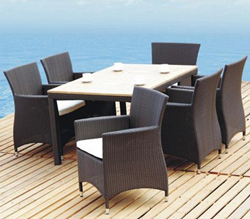 If resin wicker is the modern incarnation of wicker furniture, cast and wrought aluminum are the grandbaby of wrought iron.
(PRWEB) October 23, 2013
HomeThangs.com – the Online Home Improvement Store has made their goal to deliver the right product to the consumer. With that in mind, shopping and home design tips, as well as special product selections are being introduced.
Aluminum and resin wicker are two of the most popular materials in contemporary outdoor furniture design. These newer materials offer a slew of advantages over more traditional materials like cast iron, wood, or natural wicker, and are both smart, all-weather choices for your outdoor space. But they're also quite distinct from each other, both in terms of style, comfort, and durability. HomeThangs.com has released a simple guide to choosing the right type of outdoor furniture for an outdoor space.
Resin wicker, which is made out of PVC, polyethylene, or another synthetic material, is the modern successor to natural wicker. Synthetic resin wicker offers a similar look and feel, but is much, much easier to care for. Unlike natural wicker, resin wicker is naturally water resistant. That means not only is it less likely to develop mold or mildew, but also that it can handle the chemical water of pools (and oily suntan-lotioned bodies) that would destroy true wicker.
Similarly, because traditional wicker furniture is made of natural materials, it tends to become brittle and crack or unravel over time. Synthetic resin wicker can fade if left in direct sunlight, but is designed to be UV resistant, so it won't lose its flexibility. While natural wicker requires the application of oil to remain smooth and plaint, resin wicker outdoor furniture always makes for comfortable outdoor seating, with or without a cushion. The greater flexibility of the material also means it can be pressure cleaned without fear of damage, though usually mild soap and water will do the trick.
Like traditional wicker furniture, synthetic wicker furniture made of thin strips woven around a hard base to create a slightly flexible, comfortable, basket-like texture. But while natural wicker is usually woven around a wood base, synthetic wicker is more typically built around an aluminum frame. It depends a little from one manufacturer to another, but usually the internal bars are hollow, powder coated aluminum tubes, which makes them very sturdy, very light weight, and resistant to the elements.
In fact, a lot of outdoor furniture these days is made with aluminum, especially tables and chairs. These can be made from aluminum tubing or extruded aluminum as well as cast or wrought aluminum. Furniture that's made from hollow aluminum tubing is sometimes considered to be a little bit lower quality, while cast aluminum is a little more desirable because it's made from solid metal. Aluminum furniture can also be finished or left bare, and sometimes has cushions or cloth slingbacks, but all types of aluminum offer similar benefits.
If resin wicker is the modern incarnation of wicker furniture, cast and wrought aluminum outdoor furniture is the grandbaby of wrought iron. Aluminum can be similarly shaped into elegant, Victorian-style loops and whorls, but it is dramatically lighter. Cast iron is incredibly heavy for its size, and full dining sets made of the material can be quite cumbersome to move. But cast aluminum or wrought aluminum are lightweight and much easier to move.
Unlike wrought iron furniture, outdoor furniture made from aluminum is completely rust-free. That means both that the surface of the furniture won't rust and that it won't leave stains on the ground. In fact, aluminum furniture can be left outdoors year round in most environments. That said, aluminum does oxidize (and is susceptible to airborne salt and other pollutants), and should be washed with soap and water if it begins to discolor.
In recent years, powder coated aluminum outdoor furniture has become more popular. Powder coating is a special painting process used on cars, bicycles, and some home appliances where powdered paint is bonded with metal using very high heat. This creates a smooth, hard finish and comes in a wide variety of bright colors. Powder coating offers some protection from oxidization, but it does require a little more care, as the finish can be scratched or marred. Unlike aluminum, powder coated aluminum can't be sanded or polished to restore the finish.
To see more modern outdoor furniture, check out the full article here.
HomeThangs.com is not only a home improvement superstore, it also provides expert design tips and a comprehensive shopping guide, taking the ideas from professional interior designers, and offering tips to the consumers on how to pick the products to best suit their needs.