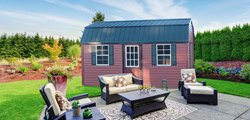 In 2017, we would like to expand our company by about 30%.
Kentucky (PRWEB) February 10, 2017
Esh's Utility Buildings of KY & TN is looking forward to an outstanding year in 2017 in their storage building production. Where they sold three buildings before, they want to sell four. Where they were decently efficient in the past, they want improve their efficiency this year. And where they offered nine outdoor shed options before they want to offer twelve in 2017. Esh aims to look back in a year from now and say that 2017 stands out from the previous thirty years.
Over the last thirty years this storage building company based in Burkesville, KY has grown to what Esh's Utility Buildings is today. Some years have been in survival, while others have been steps forward. The few years following The Great Recession of 2008, this outdoor sheds company was in survival mode. A few years thereafter, starting in 2012 or 2013, the company started seeing steady growth each year. However, the expansion has not yet met Esh's goals. Esh says, "In 2017, we would like to expand our company by about 30%."
Within the last year or two, Esh has cleared the path to take these new steps. A big part of this was the increase in partnerships and strengthening the leadership team. On January 1st of 2016 the business shifted things around and put people in place to improve their leadership team. This new setup has equipped them to take the outdoor shed and prefab garage company forward and reach their goals of producing more quality portable storage buildings.
One of the notable 2017 goals is to set up a few more manufacturing facilities and storage shed sales lots. Currently they are doing some training to prepare for this new venture. They plan to open new facilities in Morrison, TN and Fountain Run, KY. The Morrison storage building facility will focus on building wooden sheds, while Fountain Run will focus on vinyl buildings. Esh is excited to see how these new facilities will grow their business.
Esh is also looking at ramping up their advertising South and east of Nashville, TN. They plan to focus on areas like Murfreesboro, Lebanon and beyond. With a stronger advertising presence, this growing and ambitious company will be able to take strides in reaching their '30% expansion' goal. The purpose is to increase production and thereby serve more people with quality outdoor sheds in the KY and TN area.
This new push for expansion is more than higher quantities. It is also about more quality options. In the past Esh offered the more conventional and neutral vinyl shed colors such as grey, clay, and white. However recently they added red and blue colors to their vinyl siding options. These modern and premium colors bring more pizazz and style. The new redwood siding color seems to be taking off quickly. Amos Esh says that after the redwood sided storage shed arrived at the lot, even before it was removed from the trailer, the storage building was sold.
To make outdoor shed purchases easier for the customer, Esh is working on improving their rent-to-own process. They want it to be more efficient and streamlined. This will save office time and make the customer experience more pleasant. One of the goals is to go more paperless. Rather than space consuming paper receipts they want to set things up so that they can be automatic and electronic. This also includes better automated credit card payment and direct deposit options. Life is about to get simpler and easier for Esh's Utility Buildings and their customers.
Esh is on a quest to expand their reach, offer more appealing options, and become more efficient. Where they can serve more customers better with outdoor sheds in KY and TN, they are all ready to go. They hope 2017 will be marked as a year of noticeable progress and a year that stands out in their 30-year history.