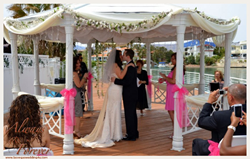 Our Gazebo on the Lake: Bliss package is such a great deal, and perfect for the couple that wants a picturesque ceremony with up to twenty guests
Las Vegas, NV (PRWEB) March 22, 2015
With the average United States wedding costing over $20,000, the special being offered by award-winning wedding planners Always & Forever Weddings and Receptions should help ward off sticker shock for many couples looking for a dream wedding without the high price. For a limited time, Always & Forever is offering a Las Vegas wedding ceremony-only special at their beautiful lakeside venue featuring an ivy-wrapped outdoor gazebo overlooking a tranquil lake where the happy couple and twenty of their closest family and friends can partake in a romantic wedding ceremony.
"Our Gazebo on the Lake Bliss package is such a great deal, and perfect for the couple that wants a picturesque ceremony with up to twenty guests," said founder and owner Raquel Ryan.
The Bliss package includes a photographer, photos, a DVD of the ceremony, flowers, minister (traditional or civic), and much more for just $549. Clients can select and book this special using Always & Forever's new Online Booking Agent via their website.
"All it takes is just a few clicks to reserve this special," Ryan said.
For a complete list and to learn more about Always & Forever's Gazebo on the Lake: Bliss package and to book your Las Vegas outdoor wedding now, visit http://lasvegaswedding4u.com/product-category/outdoor/
About Always & Forever Weddings and Receptions
Always & Forever is an award-winning wedding and ceremony consulting firm with several indoor and outdoor ceremony and reception venues throughout the Las Vegas area. Always & Forever is known for their outstanding reviews, customer service and scenic indoor and outdoor venues throughout the Las Vegas region. Top Las Vegas wedding consultant Raquel Ryan owns the firm.