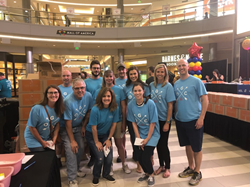 "The Outdoor GreatRoom Company helped in packing 200 snack packs during the event," VP of Business Development and Marketing Renee Schmitz said. "We are proud to partner with MATTER® in making a difference in our community."
MINNEAPOLIS (PRWEB) June 03, 2019
The Outdoor GreatRoom Company™ (OGC) participated in the annual MATTERbox Madness event as part of the Summer Harvest for Kids campaign at the Mall of America.
The event consisted of packing healthy snack packs to be distributed to children in the community throughout the summer. For many children, healthy food options may not be available to them once the school year ends. Small companies to large corporations competed for the fastest box-packing time in a tournament-styled challenge.
"It was so much fun to see so many people from different companies come together for a great cause," Customer Service Manager and Eastern Sales Coordinator Laura Podmolik said.
The Outdoor GreatRoom Company finished just shy of the semi-finals with the complete event raising a total of $144,013 as of 9 p.m. that evening.
"The Outdoor GreatRoom Company helped in packing 200 snack packs during the event," VP of Business Development and Marketing Renee Schmitz said. "We are proud to partner with MATTER® in making a difference in our community."
Prior to the MATTERbox Madness event, OGC held a company-wide packing event at their headquarters in Minnesota. The fastest box-packing team and other employee volunteers then attended the corporate packing competition on May 30, 2019.
MATTER® is a global nonprofit with a mission to move people forward by eliminating barriers to a healthier life. Along with the MATTERbox movement, MATTER® also focuses on improving access to medical care, growing sustainable and healthy communities, and advancing educational environments.
Located in Minnesota, The Outdoor GreatRoom Company™ is a family-owned company that manufactures innovative, upscale products with design appeal for indoor and outdoor living spaces. MATTER® events are a part of The Outdoor GreatRoom Cares initiative to give back to the community year-round through a variety of drives, programs, and other volunteer opportunities. https://www.outdoorrooms.com