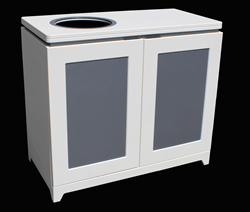 "Both Seaboard and Designboard lend themselves well to our designs," said Dan Christopherson. "The material is very easy to fabricate so the design possibilities are endless. We can customize a poolside cabinet for any customer."
Murrieta, CA (PRWEB) April 23, 2014
Outdoor Design Studio of Murrieta, CA, has selected Vycom's Seaboard and Designboard materials for its spring line of Soldura sustainable outdoor poolside cabinets and furniture. Made with top-of-the-line, weather resistant high density polyethylene (HDPE), the cabinets are attractive, easy to clean and will stand up to the wear and tear of outdoor environments.
The Soldura line appeals to resorts and hotels that require storage for plush, oversized pool towels and other pool area supplies. "These luxury amenities are popular but they can trend toward higher maintenance," said Dan Christopherson of Outdoor Design Studio, emphasizing their location in wet environments with exposure to the elements. "Our custom-built poolside cabinets are not only aesthetically appealing, but because they are made with marine grade materials, they're durable, weather resistant and very easy to maintain," says Christopherson.
Christopherson uses Seaboard as the cabinet base and Designboard as the cabinet accent. Seaboard is available in white or light gray while Designboard offers a designer line of rich colors and textures that have the toughness of HDPE with the brilliance of metal or the natural look of wood. "They are the perfect replacements for wood or metal because the weather-resistant surfaces won't rust, rot, corrode, or splinter over time. And, the ability to simply take a garden hose to the pool area and cabinets is very attractive to the low-maintenance minded hospitality or facility manager," said Christopheron.
In addition to using materials that do not absorb moisture, Christopherson also uses stainless steel hardware for the cabinets.
"Both Seaboard and Designboard lend themselves well to our designs," said Christopherson. "The material is very easy to fabricate so the design possibilities are endless. We can customize a poolside cabinet for any customer."
For more information about Outdoor Design Studio's Soldura line of sustainable outdoor storage and furniture, visit their website at http://www.outdoordesignstudio.com.
About Vycom
Vycom, a division of CPG International, is dedicated to maintaining an environment where quality meets performance. Vycom offers the largest range of products, capabilities and inventory for all your Olefin and PVC needs. For more information, visit http://www.vycomplastics.com.