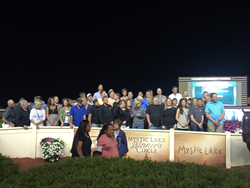 "OGC listens, [they are] fun to do business with, very innovative, great customer service, and good people."
Minneapolis, MN (PRWEB) September 13, 2016
The Outdoor GreatRoom Company (OGC) hosted its second-annual Outdoor GreatRoom Conference, September 7-8, at their new corporate headquarters in Burnsville, Minnesota. The event included employees, sales representatives, and a number of customers from across the U.S. and Canada for a two-day event. This educational event themed "Place Your Bets on OGC" featured showroom, factory, and engineering tours, hands on product training, and round table discussions.
Evening festivities included dinner and hospitality, go-karting, and a hosted evening at Canterbury Park for some horse racing. Eric Cannon, Territory Representative for the Rocky Mountain States commented it was a "fun and informative team building experience. As usual it was well planned and well executed by [OGC.] The new facility is awesome. Wow!"
This event brought the company closer to its customers and provided a lot of feedback into how OGC can help its customers and sales representatives succeed in the market. Steve Shimek, VP of Sales got the feedback that "OGC listens, [they are] fun to do business with, very innovative, great customer service, and good people."
OGC is looking forward to growing this event in the future.
ABOUT THE OUTDOOR GREATROOM COMPANY
The Outdoor GreatRoom Company™ (OGC) manufactures unique, upscale products with design appeal for indoor and outdoor living spaces. Products include gas fire pits and gas fire pit tables, pergolas, outdoor kitchen islands, outdoor gas fireplaces, indoor electric fireplaces, grills, outdoor patio furniture, accessories, along with custom and commercial products. Visit http://www.outdoorrooms.com for more information.