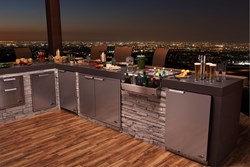 From storage drawers to warming drawers and beverage chillers, DCS manufactures the finest of everything needed to complete any outdoor kitchen and, even more importantly, create the ultimate outdoor kitchen experience.
Huntington Beach, California (PRWEB) January 30, 2014
DCS by Fisher & Paykel, a leading manufacturer of top quality, commercial grade indoor and outdoor kitchen appliances, announced it is introducing outdoor storage solutions that complete and complement the company's premium line of built-in outdoor kitchen appliances. The company will debut its new outdoor storage solutions at HPBExpo in Salt Lake City, March 5-8, 2014 at booth #3812.
"Outdoor living is a rapidly growing lifestyle phenomenon," says Gina Lathrum, brand marketing manager for DCS by Fisher & Paykel. "One of the keys to outdoor living is bringing all the comforts of indoor living to the outdoors, beginning with an outdoor kitchen complete with appliances and storage solutions for cooking, preparing and storing food."
According to Lathrum, DCS by Fisher & Paykel is committed to providing all the capabilities of an indoor kitchen in an outdoor setting and delivering the ultimate outdoor kitchen experience. Accordingly, the company's new outdoor storage solutions offering includes:

Tower Drawers (Single, Double and Triple options): Designed with thoughtful convenience in mind so kitchen ingredients, service ware, platters and tools can be stored in an outdoor built-in kitchen. Tower drawers can be installed in many configurations.
Trash & Recycle Bin: Offer a concealed environment that includes two full size removable bins. The slide out sealed drawer system is designed to prevent ingress of rodents and insects and is weather resistant.
Dry Pantry: Designed with ultra-premium indoor features to provide an ideal place to store all the outdoor essentials, dry goods, cookware, counter finishes and anything an indoor pantry would hold.
Beverage Chiller: Provides a fully insulated compartment that holds up to 17 gallons of ice to chill refreshments. Its deep depth comfortably holds long bottle neck beverages and wine bottles. A removable commercial grade condiment container is food safe for cocktail accessories and includes four individual containers and lids that are removable for cleaning / filling.
Beverage Chiller Bottle Accessory: Permanently fitted to the front of the beverage chiller, this accessory houses 1-liter bottles and provides added storage and arms reach service.
Growth in the outdoor grill market indicates consumers are poised to embrace the new outdoor kitchen experience. Global market research firm, Mintel, says the outdoor grill market is expected to grow by more than 4 percent over the next four years with 13.9 million outdoor barbeques, grills and smokers shipped by 2016.
According to the Hearth, Patio & Barbecue Association, nearly half (49 percent) of grill owners see their outdoor grilling area as a functional cooking area of their home, while nearly a quarter (23 percent) see it as a place to rest and relax and 29 percent view it as an entertainment area.
"All the capabilities of an indoor kitchen can finally be realized in an outdoor setting. When it comes to outdoor entertaining, DCS has it all," says Lathrum. "From storage drawers to warming drawers and beverage chillers, DCS manufactures the finest of everything needed to complete any outdoor kitchen and, even more importantly, create the ultimate outdoor kitchen experience."
About Fisher & Paykel
Since 1934, the Fisher & Paykel design heritage has been founded on a pioneering spirit and culture of curiosity that challenges conventional appliance design to consistently deliver products tailored for human needs. Incorporating outstanding performance and user-focused innovation, Fisher & Paykel and DCS by Fisher & Paykel appliance brands inspire people through indoor/outdoor kitchen and laundry products designed with real life in mind. Our brands incorporate innovative technologies driven from a passion to produce the most technically advanced, efficient and contemporary styled appliances. As pioneers of the world's first drawer dishwasher – DishDrawer® – Fisher & Paykel continues to pave the way for appliance innovation. Since the 1980s, DCS has defined cooking appliance innovation for the commercial food industry and designs commercial quality appliances for the home. Fisher & Paykel Appliances is a global company operating in 50 countries, manufacturing in the United States, Mexico, Italy, Thailand and New Zealand, employing over 3,300 people with revenue of more than $1 billion annually. For more information, please visit: http://www.dcsappliances.com/company/who-we-are/.