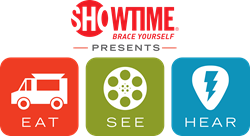 Buying your tickets in advance is the way to go, because shows sometimes sell out.
Los Angeles, California (PRWEB) May 18, 2015
Cameron Crowe's autobiographical coming-of-age movie, Almost Famous, will be showcased at Eat|See|Hear's outdoor event in Griffith Park this coming Saturday, May 23, at 8:30 pm. The film will be projected onto Eat|See|Hear's 3 12 story tall, 52 foot wide viewable space, inflatable outdoor movie screen—the largest screen of its kind on the West Coast.
Set in 1973, Almost Famous tells the story of William Miller (Patrick Fugit), a 15-year-old kid hired by Rolling Stone magazine to tour with and write about Stillwater, an up-and-coming rock band. The film follows William as he falls face first to confront life, love, and lingo. The all-star supporting cast includes Kate Hudson, Billy Crudup, Frances McDormand and Philip Seymour Hoffman.
This event will be held at the expansive South Lawn of the Autry National Center, located at 4700 Western Heritage Way in Griffith Park. Movie patrons should bring a low beach chair to sit on (no more than 6 inches off the ground), or a large beach towel or picnic blanket to cover the ground.
At 7 pm, the LA-based indie band, Dark Furs, will take the stage. Leading the band is UK-raised vocalist, Suzanne May, and LA native, Chad Philipps, performing their own style of "mood rock." Featured on several "Bands to Watch" lists, this will be the duo's second time on the Eat|See|Hear stage.
Doors open at 5:30 pm. "Even though the film doesn't start until 8:30, it's good to get there early so that you find your seats and get settled before the show starts. If there is a specific area you'd like to sit in, you should arrive as close to 5:30 as possible," suggests Sharon Sperber, co-owner of Eat|See|Hear.
Arriving early also allows movie patrons the opportunity to kick back and relax before the show, and to check out the various food trucks that will be on hand. There will be at least 20 trucks to choose from, including favorites like Baby's Badass Burgers, Brasil Kiss, Cambalaches, Coolhaus, Good Greek Grub, Rock and Lou's Pizza, and The Deli Doctor.
There is plenty of free parking at the Autry, right across the street at the Los Angeles Zoo. Movie goers are asked to enter the facility through the main entrance adjacent to the Autry Museum building on the event lawn.
Tickets can be purchased at the door or in advance at http://www.eventbrite.com/e/eat-see-hear-almost-famous-outdoor-movie-tickets-16264441382. General admission tickets are $12 each for adults, $8 for children 5-12 years old, and free for children 5 and under.
"Buying your tickets in advance is the way to go, because shows sometimes sell out," advises Sperber. "If you wait to buy your ticket at the door, it might be too late to get one."
In addition to general admission tickets, a limited number of "Fashionably Late" passes are available for purchase in advance at the Eventbrite website, granting seating in a reserved area, regardless of arrival time.
As is true for every Eat|See|Hear event, movie-goers are welcome to bring their canine companions with them to the event. Dog owners are asked to bring water and water bowls, dog treats, and waste bags to keep their pets happy during the show and clean up after them. All canines will be greeted and treated at admissions with a free biscuit!
For further information about Eat|See|Hear's Almost Famous event, or to see the summer 2015 movie schedule, visit eatseehear.com.
About Eat|See|Hear
Voted "Best Outdoor Movie Series" by Los Angeles Magazine in 2014, the Eat|See|Hear outdoor movie, food truck and live music series brings an evening of fun to Los Angeles-area venues each summer. The fourth annual series is presented by SHOWTIME NETWORKS, featuring up-and-coming bands from the local music scene, the hottest food trucks and the largest inflatable movie screen on the west coast; With the highest quality HD-projection, a 52-foot wide image and professional sound, Eat|See|Hear promises an enjoyable movie-going experience for everyone, including dogs. Each event and is produced by LA-based Trailhead Marketing, Inc. For more information visit http://eatseehear.com.