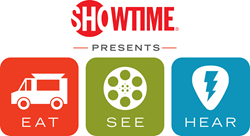 Buying your tickets in advance is the way to go, because shows sometimes sell out
Los Angeles, California (PRWEB) June 01, 2015
Eat|See|Hear, LA's premier movies in the park event series, will be in Griffith Park on Saturday, June 6, to showcase the 1961 romantic comedy, Breakfast at Tiffany's. The event will be held at the South Lawn of the Autry National Center, located at 4700 Western Heritage Way in Griffith Park. Showtime is 8:30 p.m.
Breakfast at Tiffany's stars Audrey Hepburn, who plays the pretty but quirky Holly Golightly. When struggling writer, Paul Varjak (played by George Peppard), moves into Holly's apartment building, he immediately becomes enchanted with her, even though he finds her confusing. She's a sexy, sophisticated society girl out in public, but becomes a sweet, vulnerable mess when they're alone. Directed by Blake Edwards, the film was deemed "culturally, historically, or aesthetically significant" by the United States Library of Congress and selected for preservation in the National Film Registry in 2012. The all-star supporting cast includes Mickey Rooney, Patricia Neal, Buddy Ebson and Martin Balsam.
The film will be projected onto Eat|See|Hear's three-story high inflatable movie screen with a 52-foot wide image—the largest of its kind west of the Mississippi—offering an unrivaled outdoor movie experience with digital HD projection and state of the art line-array audio.
Doors open at 5:30 p.m. "Even though the film doesn't start until 8:30, it's good to get there early so that you find a place to sit and get settled before the show starts. If there is a specific area you'd like to sit in, you should arrive earlier vs later," suggests Sharon Sperber, co-owner of Eat|See|Hear. Movie patrons may bring a low beach chair to sit on (no more than 6 inches off the ground), or a large beach towel or picnic blanket to cover the ground.
At around 7:30 p.m., up-and-coming musician Alec Benjamin, will take the stage. His soulful melodies are sure to relax attendees before the movie starts.
Plenty of food trucks will be on hand, offering a variety of snack foods and meals. The lineup includes Brasil Kiss, Coolhaus, Foodism, Grilled Cheese Truck, Komodo, Polka Pierogi, Romolo's Italian, Royal Red Velvet, Share a Meal, Smokin Willie's BBQ, Street Foods Co., Street Kitchen, The Gastrobus, The Lobsta Truck and Umami Burger. Food trucks will be on site and ready to serve guests when doors open at 5:30 p.m.
Movie patrons can park for free in the Los Angeles Zoo parking lot, which is across the street from the Autry. From there, it is just a short walk to the South Lawn. For people who may be biking in, there are racks for parking bicycles for free as well.
Tickets can be purchased in advance at http://www.eventbrite.com/e/eat-see-hear-breakfast-at-tiffanys-outdoor-movie-tickets-16372763376?aff=erelexporg. General admission tickets are $12 each for adults, $8 for children under 12 years old, and free for children 5 and under. General Admission tickets may be purchased at the door with cash or credit card for $14 for adults and the same prices noted for children.
"Buying your tickets in advance is the way to go, because shows sometimes sell out," advises Sperber. "The Autry is a very large, spacious venue, with plenty of room for everyone."
In addition to general admission tickets, a limited number of "Air New Zealand Fashionably Late" passes are available for purchase in advance at the Eventbrite website, granting a seating area in a reserved section, regardless of arrival time.
As is true for every Eat|See|Hear event, movie-goers are welcome to bring their canine companions with them to the event. Dog owners are asked to bring water, dog treats, and waste bags to keep their pets happy during the show and clean up after them.
For further information about Eat|See|Hear's Breakfast at Tiffany's event, or to see the summer 2015 movie schedule, visit http://www.eatseehear.com.
About Eat|See|Hear
Voted "Best Outdoor Movie Series" by Los Angeles Magazine in 2014, the Eat|See|Hear outdoor movie, food truck and live music series brings an evening of fun to Los Angeles-area venues each summer. The fourth annual series is presented by SHOWTIME NETWORKS, featuring up-and-coming bands from the local music scene, the hottest food trucks and the largest inflatable movie screen on the west coast with the highest quality HD-projection with a 52-foot wide image and professional sound. Eat|See|Hear promises an enjoyable movie-going experience for everyone, including dogs. Each event and is produced by LA-based Trailhead Marketing, Inc. For more information visit http://eatseehear.com.