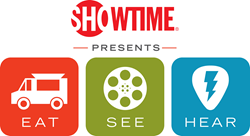 It's a good idea to get there early so you can claim your spot. This location is concrete with some grassy areas, so you should bring pillows, cushions and blankets so you can be comfortable.
Los Angeles, Calif. (PRWEB) September 07, 2015
Presented by Showtime Networks, Eat|See|Hear, LA's original traveling outdoor movie series, will be showing the Rob Reiner film, The Princess Bride, on Saturday, September 12. This event will be held at Centennial Square in front of Pasadena City Hall, located at 100 N. Garfield Ave., in Pasadena. Please enter on Marengo Ave. This is the only entrance.
The Princess Bride is a classic fairy tale, with swordplay, giants, an evil prince, a beautiful princess and yes, some kidding (as read by a kindly grandfather). This whimsical adventure is rated PG, and stars Cary Elwes, Mandy Patinkin and Robin Wright.
Doors open at 5:30 p.m. "It's a good idea to get there early so you can claim your spot," suggests Sharon Sperber, co-owner of Eat|See|Hear. "This location is concrete with some grassy areas, so you should bring pillows, cushions and blankets so you can be comfortable. Low beach-style chairs are also allowed, but please don't block the view of the people behind you. If you want to sit on a folding chair that's over six inches off the ground, you will need to sit on the left or right side of the venue, which will be clearly marked with signs."
At 7:30 p.m., the indie rock group, Torches, will take the stage. The group members came together because they share a nostalgia for the music of their youth and dreams for the future. Torches has been making its mark on the LA music scene with its lush guitars, infectious harmonies, and pounding tribal drums.
The event will include a variety of food trucks throughout the evening including Jogasaki, Sushi Burrito, Tokyo Doggie Style, Border Grill, Cousins Maine Lobster, Hungry Nomad, The Lobos Truck, Good Greek Grub, India Jones, Grilled Cheese Truck, Carolina Meat Co., Street Kitchen, B Sweet Mobile, Coolhaus and Brasil Kiss.
There are a variety of fee parking lots near Centennial Square, along with street parking. Movie-patrons can also take the Metro Gold Line to Memorial Park Station. From there, it's just short walk to Old Town Pasadena and City Hall. The entrance to the event is on North Marengo Avenue at Holly Street.
"If you drive to the event, be sure to give yourself enough time to find a parking space," Sperber says. Parking structures in the vicinity include those at Plaza Las Fuentes (Union and Los Robles Avenues), The School House (Union and Los Robles Avenues), Pasadena Center (Marengo and Cordova Avenues) and Paseo Colorado (Green Street and Euclid Avenue).
As is true for every Eat|See|Hear event, movie-goers are welcome to bring their dogs. "Leashed, friendly dogs are always greeted with a free biscuit at the entrance and water bowls all around," Sperber says. Pet owners are asked to bring waste bags and pooper scoopers to clean up after their animals.
Tickets can be purchased at the door or in advance at http://www.eventbrite.com/e/eat-see-hear-the-princess-bride-outdoor-movie-tickets-16367671145. Prices for general admission are $12 ($14 at the door), $8 for children under 12 years old, and free for children 5 and under.
In addition to general admission tickets, a limited number of "Air New Zealand Fashionably Late" passes are available for purchase in advance at the Eventbrite website, granting seating in a reserved area, regardless of arrival time.
For further information about Eat|See|Hear's The Princess Bride showing, visit eatseehear.com.
About Eat|See|Hear
Voted "Best Outdoor Movie Series" by Los Angeles Magazine in 2014, the Eat|See|Hear outdoor movie, food truck and live music series brings an evening of fun to Los Angeles-area venues each summer. The fourth annual series is presented by SHOWTIME NETWORKS, featuring up-and-coming bands from the local music scene, the hottest food trucks and the largest inflatable movie screen on the west coast with the highest quality HD-projection with a 52-foot wide image and professional sound. Eat|See|Hear promises an enjoyable movie-going experience for everyone, including dogs. Each event and is produced by LA-based Trailhead Marketing, Inc. For more information visit http://eatseehear.com.
Contact:
Sharon Sperber
sharon(at)trailheadmarketinginc(Dot)com