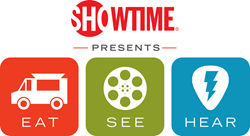 Shows often sell out quickly, so advance ticket purchase is highly recommended
Los Angeles, Calif. (PRWEB) July 28, 2015
Join LA outdoor movie series Eat|See|Hear in Griffith Park on Saturday, August 1, for the screening of the 2001 comedy, Wet Hot American Summer. The event will be held at the South Lawn of the Autry National Center, located at 4700 Western Heritage Way. Showtime is at 8:30 p.m. After the film is over, join Netflix and special guests like David Wain for a screening of the new original series Wet Hot American Summer: First Day of Camp. The Camp Firewood bus will also be on-site.
Set on the sweltering, last day of summer camp in 1981, Wet Hot American Summer follows a group of camp counselors who are each trying to resolve their "unfinished business" before the day ends. The entire summer of pent-up sexual frustrations, love triangles, pending separations and of course, the big talent show scheduled for the end of the day, all weigh heavily on the minds and groins of counselors and campers alike. The all-star cast includes Janeane Garofalo, Elizabeth Banks, David Hyde Pierce, Michael Showalter, Michael Ian Black, Paul Rudd, Christopher Meloni, Molly Shannon, Ken Marino, Amy Poehler and Bradley Cooper.
Doors open at 5:30 p.m. "Seating is general admission, on a first-come, first-served basis. So if there's a particular place you want to sit, it's best to arrive as close to 5:30 as possible," says Sharon Sperber, co-owner of Eat|See|Hear.
At 7:30 pm, indie folk rock trio, The American Spirit, will take the stage. The band is comprised of Gabriel Strycharz on lead vocals and guitar, Adam Morgan on bass, keys and guitars, and Nick Price on drums and percussion. The trio released their first EP, Spaces, in 2011, and their first full-length record, Season of Violence, earlier this year.
Plenty of food trucks will be on hand, including Komodo, Share a Meal, The Garbage Truck, Angie's Wieners, VCHOS, Middle Feast, Bool BBQ, The Mighty Boba, California Taco Bear, Sweet Arleen's, Coolhaus and Brasil Kiss. They will be serving a wide variety of snack foods and meals, and will be open for business at 5:30 p.m.
There is free parking for the event in the Los Angeles Zoo parking lot, which is across the street from the Autry. Please enter the Eat|See|Hear event through the main entrance, adjacent to the Autry Museum building on the event lawn. All Eat|See|Hear ticket holders get free admission to the Autry Museum as well.
Tickets can be purchased at the door or in advance at http://www.eventbrite.com/e/eat-see-hear-wet-hot-american-summer-outdoor-movie-tickets-16373200684. General admission tickets are $12 each for adults ($14 at the door), $8 for children under 12 years old, and free for children 5 and under.
"Shows often sell out quickly, so advance ticket purchase is highly recommended," Sperber says. Those who purchase advance tickets will automatically be entered to win a R/T flight to Auckland, courtesy of Air New Zealand—which is another reason to purchase tickets online.
In addition to general admission tickets, a limited number of "Air New Zealand Fashionably Late" passes are available for purchase in advance at the Eventbrite website, granting seating in a reserved area, regardless of arrival time.
For further information about Eat|See|Hear's Wet Hot American Summer event, visit eatseehear.com. Don't miss your chance to see this hilarious flick on the Eat|See|Hear big screen!
About Eat|See|Hear
Voted "Best Outdoor Movie Series" by Los Angeles Magazine in 2014, the Eat|See|Hear outdoor movie, food truck and live music series brings an evening of fun to Los Angeles-area venues each summer. The fourth annual series is presented by SHOWTIME NETWORKS, featuring up-and-coming bands from the local music scene, the hottest food trucks and the largest inflatable movie screen on the west coast with the highest quality HD-projection with a 52-foot wide image and professional sound. Eat|See|Hear promises an enjoyable movie-going experience for everyone, including dogs. Each event and is produced by LA-based Trailhead Marketing, Inc. For more information visit http://eatseehear.com.