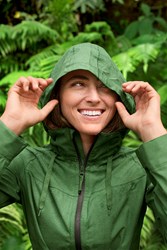 PrAna is expanding its spring collection to offer jackets and outerwear that keep you dry and looking great no matter the weather.
Carlsbad, CA (PRWEB) February 05, 2014
PrAna is expanding its spring collection to offer jackets and outerwear that keep you dry and looking great no matter the weather.
"When it comes to the weather, Spring days are anything but predictable. It can quickly turn from sunshine to showers and it's best to be prepared. So, we've introduced waterproof and breathable rainwear to the line," said Christian Castellani, Sr. Merchandise Manager-Direct at prAna. "With performance features like taped seams and waterproof zippers in supple, lightweight fabrics, these jackets are perfect for Spring conditions. "
For women, the belted Eliza jacket comes wrinkle-resistant and waterproof. Its feminine silhouette flatters in four different colors, while the playful print available on the Jordi trench brightens any cloudy day. prAna has paid attention to details with ruffled hems and sophisticated cuts combined with functional features such as breathable waterproofing, seam sealing, and watertight zippers.
For men, prAna is offering its most technically advanced waterproof jacket: Inception. Color blocking, unique textures and tons of adjustability elevate this piece even further. Another melding of fashion and function is the Dax Jacket. This is a pullover, water-repellent anorak style that comes in three colors, each with contrasting plaid lining in the hood.
"PrAna is growing, and we've been really fortunate to learn from the best on how to source materials for outerwear while creating something that's as functional as it is stylish," said Tara Ritacco, prAna Product Developer- Outerwear.
Spring jackets are available online and in stores now, along with light, insulated pieces and first layers that are great additions to any wardrobe while the weather changes from cool to warm. To see the entire spring collection, visit prAna.com.
-30-
PrAna is a lifestyle brand that draws its name from the ancient Sanskrit word for breath, life and vitality of the spirit. Born from climbing and yoga, the prAna team creates mindfully-designed, purposeful and stylish apparel for free spirited people to pursue their passions on the water, mat, rock, trail, and street. From its beginning in 1993, prAna has been committed to weaving sustainable practices into its operations and supply chain, working to reduce its impact on soils, water supplies and other natural resources while promoting conservation. PrAna is also conscious of its impact on communities and has worked to include a growing number of fair trade styles every year. It is the first apparel company in North America to offer Fair Trade USA certified products and accessories. PrAna is sold in five flagship stores, online at prana.com, and in 1,400 specialty retailers across the US, Canada, Europe and Asia.
For a list of prAna retailers, please visit http://www.prana.com/dealer-locator.html.