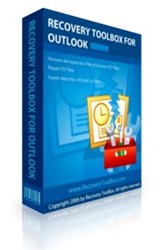 a fast and easy to use Outlook fix tool.
Sacramento, CA (PRWEB) October 02, 2013
Recovery Toolbox - recoverytoolbox.com, an expert in data recovery and developer of an extensive line of data recovery solutions for many popular applications, is glad to present a totally new version of Recovery Toolbox for Outlook offering improved performance, efficiency and accuracy of data extraction. http://www.recoverytoolbox.com/
The software is intended for professionals and regular users looking for a way to restore the contents of Outlook PST files damaged in various data corruption incidents. Created for the mass market, this Outlook fix tool comes with a highly intuitive interface based on a step-by-step wizard that eliminates the need for manual configuration of recovery settings and makes human errors impossible.
The program never modifies the damaged source file during recovery, thus allowing the user to try alternative recovery methods, if necessary. The newest version of the program comes with an all-new data recovery engine capable of restoring data from the most seriously damaged files.
http://www.fixoutlook.recoverytoolbox.com/
Recovery Toolbox for Outlook supports two operational modes: Recovery and Converter. In the first case, data extracted from a damaged PST/OST file is saved directly to a new PST file, while in the other scenario, data are saved to the user's hard drive as files of *.msg/*.eml/*.vcf formats that can be archived or used for further processing. The recovery process itself is fully automated and required a bare minimum of user's involvement.http://www.recoverytoolbox.com/help_outlook.html
"The new version of Recovery Toolbox for Outlook is the result of several months of hard work and we are really glad to present it to the market," says Victor Bobrov, Senior Software Developer at Recovery Toolbox. "This an overall great product that makes wonders in situations where other recovery tools fail and we really hope it will help many people out there restore their mail in a few mouse clicks." http://www.recoverytoolbox.com/download.html#rt_outlook_download