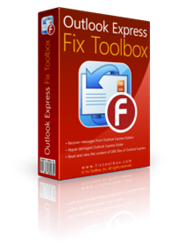 This compact and intuitive Outlook Express fix tool is a perfect solution for users with and without experience in data recovery.
New York, NY (PRWEB) July 17, 2014
Fix Toolbox, a leading supplier of specialized data recovery tools for a wide range of applications used by millions of people every day, announces a complete renovation of Outlook Express Fix Toolbox, one of the company's most popular products. http://www.fixtoolbox.com/products.html
This Outlook Express fix tool enables users with minimal or no experience in data recovery to restore the contents of damaged *.dbx files with unprecedented ease.
Outlook Express Fix Toolbox is intended for professionals and non-professionals seeking a reliable method of restoring the contents of their Outlook Express *.DBX files after all kinds of accidents resulting in data corruption: malware attacks, hard drive crashes, file system errors and such. http://www.outlookexpress.fixtoolbox.com/
The new version of the program is based on an all-new file analysis and data recovery engine that uses several algorithms at once for maximum recovery efficiency. The intelligent core of the program is complemented with an intuitive wizard-based interface that makes data recovery a snap even for users who have never worked with such software and have very basic computer skills. This Outlook Express fix tool supports all major versions of Outlook Express data files and recovers data from files over 2 GB in size. Recovered emails are saved to EML files on the user's hard drive that can be archived, moved to a safe location or re-imported immediately after the completion of the recovery procedure. http://www.fixtoolbox.com/
Outlook Express Fix Toolbox is capable of repairing emails in all formats, including plain text, HTML and RTF, and can even restore previously deleted emails from OE data files. For extra convenience, the program comes with an integrated file preview module that enables users to preview the recoverable contents of a damaged file and mark specific items for extraction. http://www.fixtoolbox.com/download.html
"This Outlook Express fix tool has always been one of our top products, and we are really excited about the new version that has just come out," noted Senior Software Developer at Fix Toolbox. "We've equipped it with our new engine and guarantee an ample performance and efficiency boost for files of any size. Apart from this, we've increased the stability of the program and fixed a number of issues found in the previous version."