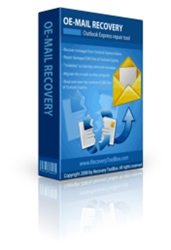 the new product enables users to quickly restore the contents of corrupted DBX files on their own.
Sacramento, CA (PRWEB) May 20, 2014
Recovery Toolbox, a software development company specializing in the creation of compact and intuitive recovery tools for the general public, presents a major update for OE-Mail Recovery, an Outlook Express inbox repair tool intended for fast and completely unassisted extraction of emails from damaged DBX files. The improved engine of the latest version of the program offers a higher recovery speed and better stability for smoother and more comprehensive data recovery regardless of the degree of file corruption. http://www.outlookexpressrepair.oemailrecovery.com/
OE-Mail Recovery is an all-in-one tool for restoring the contents of Microsoft Outlook Express DBX files damaged in all types of data corruption accidents. The program efficiently restores messages and attachments from files of any size and structure using its advanced data recovery engine that has now been rewritten from scratch to offer even more speed and accuracy. http://www.oemailrecovery.com/
Created for the general public, this Outlook Express inbox repair tool has a very simple and intuitive wizard-based interface that largely automates the process of file analysis and recovery, letting the user make but a few confirmation clicks and simple selections along the way. The tool fully supports all major Outlook Express versions (including MS Outlook Express 5.0, 5.5 and 6.0) and DBX files of up to 4 GB in size. http://www.recoveringlostemail.oemailrecovery.com/
A convenient integrated file browser enables users to preview the contents of damaged files, assess the scope of recoverable data and mark specific messages and objects for subsequent recovery. The tool requires no additional downloads and is ready for email recovery straight "out of the box".
"We have seriously improved the efficiency of our Outlook Express inbox repair tool in this release and implemented a number of optimizations that made it faster and more reliable than ever," said Victor Bobrov, Senior Software Engineer at Recovery Toolbox. "OE-Mail Recovery is a must-have asset in the collection of any system and network administrator dealing with DBX file corruption on a regular basis."
The free demo version of the program can be downloaded from the official website of Recovery Toolbox. http://www.recoveroutlookexpress.oemailrecovery.com/