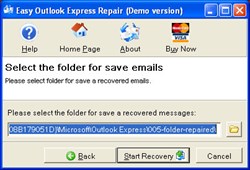 the fastest Outlook Express repair tool you will find.
Sacramento, CA (PRWEB) December 02, 2013
Mail Repair, a company known for its deep expertise in the area of data recovery and file repair, is happy to announce the release of Easy Outlook Express Repair with a completely different engine and a host of minor improvements. http://www.mail-repair.com
This update introduces the new core that Mail Repair intends to integrate into all of its products to increase the efficiency, stability and reliability of the data recovery process. Based on several proprietary technologies, the new engine heavily relies on a set of smart algorithms capable of identifying and extracting data items from the most seriously damaged Outlook Express storage files, no matter how severely they are affected and what caused their corruption: a hard drive failure, a power outage, a virus attack or a software bug. http://www.mail-repair.com/outlook-express-repair.html
The program was initially designed for the most inexperienced users facing a problem they cannot handle alone, therefore the interface of Easy Outlook Express Repair was simplified and minimized. This Outlook Express repair tool uses an easy-to-follow step-by-step wizard to take the user from A to B with a minimum of stress, effort and fear of damaging anything else. http://www.mail-repair.com/faq.html
The software works "out of the box" and does not require the user to download additional libraries, components, utilities and such, which makes it a universal solution for users of all skill levels, from complete rookies to professionals with years of experience.
"We are delighted to offer this new product to the market and hope that it will find its customers very shortly," noted Victor Bobrov, Head of Sales at Mail Repair. "We've invested quite a lot of time and resources into making this product what it is today, and definitely hope that it's wasn't done in vain. This is by far the fastest Outlook Express repair tool you will find and trust me – it will save your time, money and a good deal of nerve cells."
The free demo of Easy Outlook Express Repair can be downloaded from the official website of Mail Repair. http://www.mail-repair.com/download.html