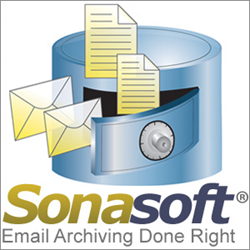 Our new folder structure feature seamlessly will make our eDiscovery and email archiving solutions completely transparent to the end-user.
San Jose, California (PRWEB) February 10, 2015
Sonasoft Corp. (OTCPK: SSFT), a leader in enterprise-class email archiving and eDiscovery software solutions, announces a new feature in its SonaVault Email Archiving Software. End-users now will be able to view their own email archive through a Microsoft Outlook-like folder structure. SonaVault automatically will create this folder structure hierarchy to mirror the actual folder structure of the end-users' Microsoft Outlook client. If end-users update their Microsoft Outlook and create new folders or move their emails into different folders, then SonaVault's Email Archiving and eDiscovery Software will update their archive folder view accordingly. Sonasoft's new folder structure feature requires no plugins or additional IT resources, and it will be available to all existing customers in Q2 of this year.
"Sonasoft listens to its customers", said Neil Khanna, Vice President of Client Services and Operations. "Our new folder structure feature seamlessly will make our eDiscovery and email archiving solutions completely transparent to the end-user. Sonasoft always builds ease-of-use and puts the end-user first with all product designs. Although our existing email archiving and eDiscovery offerings require absolutely zero training resources, this new folder structure feature will assure IT managers that its end-users will have the familiar look and feel of a Microsoft Outlook experience. This new feature also will accelerate the end-user adoption rate to use and trust Sonasoft's Email Archiving and eDiscovery Solutions. Our customers wanted this enhanced simplicity, and we gave it to them."
"Our new folder structure feature will add even greater ease to our email archiving product", said Bilal Ahmed, CTO and Vice President of Engineering. "We designed this feature so that it will automatically synchronize the folder structure from the end users' mailbox, which resides on the Microsoft Exchange Server. This update will replicate the view that end users see in their Microsoft Outlook client. This new feature is completely server-side. There are no plugins or set up required. We design our products to have a very light footprint, so IT admins can focus on other work."
For more details about SonaVault Email Archiving and eDiscovery Software features and to lock in prerelease rates:
http://www.sonasoft.com/products/sonavault-email-archiving-software/
About Sonasoft
Sonasoft Corporation is a publicly traded listed on the OTC Markets with the trading symbol SSFT. Sonasoft's core business model includes enterprise-class email archiving, eDiscovery, and business continuity software solutions for Microsoft Business Applications on Microsoft Windows platforms. Sonasoft's signature products for eDiscovery tools, which include SonaVault Email Archiving and eDiscovery Software as well as SonaVault Email Archiving Appliances, deliver affordable enterprise-level functionality that exceeds compliance and ease-of-use requirements of small and medium-sized businesses, governments, school districts, organizations, and enterprises. Sonasoft recently expanded its product offering to include email archiving in the cloud as well as data export and migration services for competing archiving solutions. Sonasoft email archiving and eDiscovery solutions have hundreds of deployments with an exceptional degree of high customer satisfaction. Founded in 2003, the company is headquartered in San Jose, California.
For more information about Sonasoft's email archiving solutions and business continuity software, contact:
Douglas MacKallor
Sales and Marketing for Sonasoft Corporation
Direct: (408) 708-4000
Source: http://www.sonasoft.com
# # #
Forward-looking Statements
This release contains statements that constitute forward-looking statements. These statements appear in a number of places in this release and include all statements that are not statements of historical fact regarding the intent, belief or current expectations of the Company, its directors or its officers with respect to, among other things: (i) the Company's financing plans; (ii) trends affecting the Company's financial condition or results of operations; (iii) the Company's growth strategy and operating strategy; and (iv) the declaration and payment of dividends. The words "may," "would," "will," "expect," "estimate," "anticipate," "believe," "intend," and similar expressions and variations thereof are intended to identify forward-looking statements. Investors are cautioned that any such forward-looking statements are not guarantees of future performance and involve risks and uncertainties, many of which are beyond the Company's ability to control, and that actual results may differ materially from those projected in the forward-looking statements as a result of various factors.