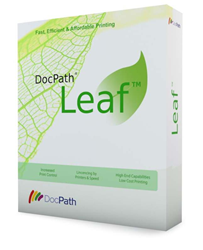 DocPath Leaf leaves ample room for growth and evolution, with new document print output formats (eg. PDF, email/fax, etc.) and increased print control features
SUWANEE, Ga. (PRWEB) October 24, 2017
DocPath has recently presented its DocPath Leaf solution, a new Document Output Management software, providing all performance capabilities of DocPath´s high-end product range, but at affordable prices that are adjusted to the real, day-to-day, usage of DocPath´s document print output and generation software.
The new document technology solution is currently geared towards production of document print output for PCL printer technology using CPS print output data, a new print output format developed by DocPath to provide Clients with greater control over their global print processes.
As one of its key benefits, DocPath Leaf leaves ample room for growth and evolution, with new document print output formats (eg. PDF, email/fax, etc.) and increased print control features, such as toner saving options and monitoring by printer groups. Additionally, the product provides full protection of the investment made as all resources (forms, fonts, etc.) can be reused in new document process optimization projects.
DocPath Leaf is available in DocPath Classic and higher versions and is distributed with product licenses by number of printers and print speed.
For more information, please consult the DocPath Leaf web page.
About DocPath
DocPath is a leading business document software manufacturer that provides its world-wide customers the technology that allows them to complement their ERP and implement sophisticated Customer Communications Management and Document Output Management systems, as well as advanced document spooling software. Created in 1992, DocPath's Solutions are found in companies scattered across the globe. Its international clients include prestigious banks and first class corporations, which are aided by DocPath's Solutions as the complicated and critical tasks involving the design, generation and distribution of business and customer documents are significantly simplified. DocPath maintains a strong commitment to R&D&i, an area that receives a good amount of its revenue, and in which lies the key to the company's success.
For more information, visit: http://www.docpath.com.
Disclaimer: DocPath trademarks are the property of DocPath Corp. Other company, product and service names may be trademarks or service marks of others.