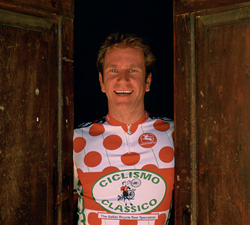 Our new Bike Across Belgium tour gives guests access to more boutique breweries than any other European bicycle tour.
Arlington, MA (PRWEB) March 25, 2014
Ciclismo Classico's longtime Italy cycling guide Marcello Bonini was named the world's Best Cycling Guide by Outside magazine in its 2014 Travel Awards issue which just hit newsstands. A former competitive triathlete, Bonini is a true Renaissance man who has worked as a personal trainer, masseur, cycling consultant, teacher, and sommelier. He has piloted more than 100 tours in Tuscany and Central Italy. For more information on Ciclismo Classico or Bonini, either call 1.800.866.7314 or visit http://www.ciclismoclassico.com.
"Winning this award is a great honor," said the 48-year-old Bonini. "What I enjoy most about Ciclismo trips is the opportunity for me to share the most beautiful stretches of my own country with foreigners who always turn out to be very interesting people themselves."
Additionally, Outside named Ciclismo Classico's "Bike Across Belgium" tour the Best Foodie Destination of 2014. The new for 2014 Belgium bike tour offers some of the most scenic cycling in Europe. Guests ride miles of bicycle paths that zig-zag along romantic canals and wind through quaint towns, charming castles, outdoor cafés and incredible restaurants. This combination of bicycle infrastructure, gorgeous scenery, delicious food and varied culture make this an extraordinary European cycling tour.
"Our new Bike Across Belgium tour gives guests access to more boutique breweries than any other European bicycle tour," said Ciclismo Classico founder Lauren Hefferon. "For travelers who love to bike and drink beer, this is a dream trip."
This year, Outside tapped its global network of correspondents who traveled across America, to Belize, Switzerland, Italy, and beyond identifying the best new adventures, most stunning lakes, gorgeous new lodges and hotels, family vacations, secret getaways, high-tech airports, and foodie hot spots. The result is more than 50 spectacular trips, plus the best travel apps, tour guides, gear, tips for traveling green, and advice for traveling solo.
The entire list of honorees appear in Outside's April issue and online.
About Ciclismo Classico:
Join a Ciclismo Classico tour and you'll soon find yourself "Pedaling your Passion," a uniquely "Italian" approach to bicycle travel that embraces La Dolce Vita at every turn and invites you to find your very special passion on every tour. Whether it's soaking in the scenery, learning to make pasta, taking hundreds of photos or learning about Renaissance architecture, you'll re-connect with your own passion with our special native guides who connect you to the culture and landscape like no one else can. At each culture stop, restaurant and lodging owners greet you like family and lavish you with magnificent food and wine. You're immersed in the local culture and always with friends. Ciclismo Classico transforms a European cycling trip into an eye-opening, life-altering adventure you'll never forget. Come ignite Your Passion and pedal with us!