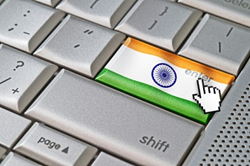 India's great economic boom, the arrival of the Internet and outsourcing, have broken the wall between provincial India and the world. - Aravind Adiga
(PRWEB) February 27, 2015
Back Office Pro is pleased to announce the immediate availability of an in-depth white paper about the best cities for businesses to outsource in India — "Top 10 Outsourcing Destinations in India." This timely special report is available to the public at no charge on the company's website. The aim of the white paper is to provide an authentic account of the top outsourcing destinations throughout India as of 2015. The 24-page report is based on extensive research, real-time inputs and Back Office Pro's direct experience of being a trusted leader in outsourcing services for over a decade. As stated in the introduction to this special report, "Welcome to the World's Favorite Back Office — India!"
The Back Office Pro outsourcing white paper features comparative data that should prove helpful to outsourcing decision makers and other business stakeholders — these sections include individual city profiles, leading educational institutions, business feasibility factors, economic stability, legal issues and an outsourcing overview for each Top 10 location. Individual sections contain a concise breakdown of elements that are directly relevant to outsourcing. For example, each city profile describes a cultural overview, environmental issues and infrastructure rankings. The final outsourcing section for each city discusses primary services that can be outsourced, possible downsides of outsourcing and risk-reward potential for outsourcing in each of the Top 10 cities.
As noted by a Marketing Manager at Back Office Pro, "Outsourcing has become one of the most defined trends affecting businesses around the world. It plays a role in everything from politics to jobs to gross national profit, and it is here to stay. Back Office Pro is proud to publish this report listing the Top 10 preferred outsourcing destinations in India, a country that still remains the world's favorite back office."
The 10 cities included in "Top 10 Outsourcing Destinations in India" are Bangalore, Mumbai, Delhi, Chennai, Pune, Hyderabad, Coimbatore, Kolkata, Chandigarh and Jaipur. This white paper is open to the public and is available to view or download at our company's website.
To read this report or obtain a PDF copy, please visit — http://www.backofficepro.com/white-paper/top-outsourcing-destinations-in-india.pdf
About Back Office Pro:
Back Office Pro is a global leader in outsourcing services that include creative design, animation, transcription, engineering services, image editing, business research and data analytics. Back Office Pro is headquartered in Bangalore, India and provides world-class outsourcing services to clients around the world.