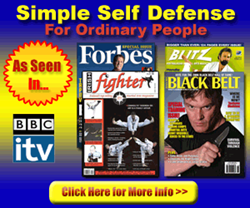 You will be affected
Altoona, PA (PRWEB) October 24, 2014
Henry Rearden of OverallHealth.org endorses Tim Larkin and his Target Focus Training system, as evidenced in a brand new review released today.
As Rearden blogs on his overallhealth.org website, "Unchecked borders, with thousands of violent criminals and terrorists pouring into this country, will invariably culminate in some unholy way. You will be affected." This is just one of many examples he spells out in his review of the Target Focus Training system, building up justification for learning such a controversial methodology of self protection.
To paraphrase Larkin, "a violent sociopath is not going to engage you in a rational conversation". In other words, this kind of perpetrator will harm or kill you unless you meet fire with fire.
Such is exactly what Larkin's system instructs.
Larkin has actually been banned from teaching his system in at least one country ("across the pond"). It requires one to agree fully to the notion that in order to stop a maniac in his tracks, he must be injured, or if necessary, killed. As Larkin admits, such a harsh approach is difficult for many people to stomach.
Rearden leaves it to the reader to decide, ultimately, pointing them to this excerpt to help set the table for discernment: