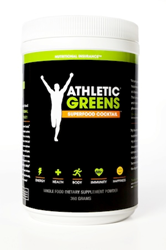 Green drinks are powders containing concentrated vegetables and fruits that have incredible nutritional profiles
(PRWEB) July 22, 2013
Last week, RealDose Nutrition aligned with Active Green for its fullness of provision in the green drink arena.
In order to fight disease, keep the mind sharp, and lose weight, a person needs to eat between 5 and 7 servings of vegetables a day. In reality, very few people actually reach this target consistently, and their body suffers as a result.
It was this very issue that prompted Dr. Steven Sisskind, creator of popular weight loss supplement RealDose Weight Loss Formula No. 1, to track down the best calibration of green drink supplementation. Green drinks are powders containing concentrated vegetables and fruits that have incredible nutritional profiles. When researching the notion of satisfying the daily fruit and veggie quota, he discovered that the green drink products on the market were woefully inadequate.
For instance, here is a sample quote from his research findings: "After reading several labels, however, the drinks seemed to be nothing but grasses, designed more for cows than for people. And they really just didn't taste that good (which is an understatement)." Hence, his incentive to discover a genuine green drink product.
Continuing Sisskind's commentary, "But after talking to some more people, I was introduced to a different, more comprehensive kind of green drink – a "food cocktail" that changed my perspective entirely. Before expanding on what I learned, I just have to tell you that Athletic Greens tastes good… really good. I still don't understand how they pulled it off. I actually enjoy drinking it."
For the full scoop on Athletic Greens, click here.
For more on Dr. Steven Sisskind and his RealDose Brand products, click here.
OverallHealth.org is a free-spirited site where author and chief editor Henry Rearden enjoys profiling and reviewing fresh – sometimes trendy - new products to hit the health market. Anything in the periphery of health and well-being is fair game for Henry to pull off the shelf for a look-see!