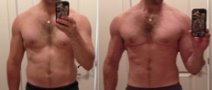 ...three particular supplements that not only work well independent from one another, but also with a potent, exponentially-effective synergy when taken in tandem.
(PRWEB) August 17, 2014
Randy Johnson's health and fitness journey had been frustrating for years, until recently. Now in his late 30's, the standards of nutrition and exercise of his younger days are obsolete. That is, he can no longer "get away with" eating the same types and quantities of food and exercising at low intensity. In fact, this trend has been worsening for him with each passing years.
Of course, his experience is typical. Metabolisms slow and responsibilities of family and work gradually replace good fitness and nutrition habits with bad. Because the progression is not abrupt, people don't necessarily notice the disastrous transformation from fit to fat, or perhaps simply don't have the time or energy to "get back on track".
Henry Rearden of OverallHealth.org recently interviewed Johnson.
"The most fundamentally important factor in maintaining a desirable physique and bodily health is food - what we put in our bodies is foundational," states Johnson. "To a lesser extent but nonetheless absolutely, exercise is also necessary. There are myriad ways to exercise effectively, and that's another story altogether, but I want to focus, for now, on nutrition and supplementation," he continued.
These comments are in the context of Randy's discussion of taking supplements to give a natural boost to energy levels, metabolism, and hormone control, all of which have a hand in weight management and muscle tone.
"I've tried so many things over the last 10 years I really can't even count up the money or number the products. Not everything was a total waste, but I wasn't really sure what supplements were effective until I became a bit more scientific in my approach." Johnson refers here to the story of how he isolated three particular supplements that not only work well independent from one another, but also with a potent, exponentially-effective synergy when taken in tandem.
Summarily, these are the supplements which Johnson now swears by:
1. RealMeal GF by RealDose Nutrition: This is a whey-based nutritional supplement processed at temperatures which do not denature the whey. The cows are grass-fed. As Johnson would say, "The product is pure", and "If you care at all about muscle tone and nutritional balance, you MUST include a whey-based supplement in your diet, and after years of trying other products I will never go back now that I've found RealMeal".
2. Weight Loss Formula No. 1: Also by RealDose Nutrition, Randy like this one for its suppression of hormones that are the root cause of weight gain. "I'm not getting any younger," he says, "and as we age, our hormones tend to work against metabolism. This supplement keeps those 'aging tendencies' in check."
3. BioTrust Omega Krill 5X: This is Johnson's preferred product for those essential fatty acids - Omega-3 variety. EFAs regulate metabolism and reduce digestive inflammation, which bears monumental importance for a host of overall health reasons.
OverallHealth.org is a free-spirited site where author and chief editor Henry Rearden enjoys profiling and reviewing fresh – sometimes trendy - new products to hit the health market. Anything in the periphery of health and well-being is fair game for Henry to pull off the shelf for a look-see!