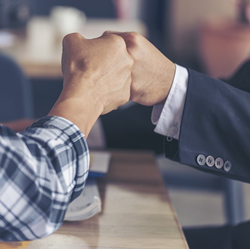 Like all companies, law firms must evaluate the business climate and adjust to stay competitive. Technology can deliver key solutions to legal firm challenges.
HOBOKEN, N.J. (PRWEB) February 16, 2023
Messaging Architects, an eMazzanti Technologies Company and legal technology expert, explores technology solutions to legal firm challenges in a new article. The informative article first asserts that recent years have witnessed seismic shifts in society that have altered the business climate.
The author then discusses how law firms can use technology to overcome the challenges of attracting and retaining legal talent, supporting remote work, bringing in new clients, and protecting the firm from costly data breaches. Solutions proposed include moving to a cloud-based system, the Microsoft Teams collaboration platform, and upgraded security controls.
"Like all companies, law firms must evaluate the business climate and adjust to stay competitive," stated Greg Smith, Vice President of Services Delivery at Messaging Architects. "Technology can deliver key solutions to legal firm challenges."
Below are a few excerpts from the article, "Overcome Legal Firm Challenges with Wise Technology Investments."
Attract and Retain Legal Talent
"The Challenge: Law firms depend on quality attorneys to attract good clients. In fact, a recent study showed that nearly half of commercial law firms cite hiring and retaining good lawyers as their greatest challenge. The pandemic highlighted the need for a work-life balance, and firms that can support that balance find it easier to hire and retain good lawyers."
"The Solution: Moving to a cloud-based system allows employees to work from anywhere. This extends beyond Zoom to include cloud-based practice management software and collaboration tools. Remote workers must have the ability to access necessary data and apps from anywhere without compromising security."
Protect Firm and Client Data from Costly Data Breaches
"The Challenge: Without proper controls in place, many law firms struggle to find a balance between accessibility and data security. Home offices and the widespread use of personal mobile devices for work means the attack surface has broadened exponentially. But law firms have ethical, business and regulatory mandates to avoid costly data breaches."
"The Solution: To provide a secure base for collaboration, firms must evaluate and upgrade their security controls. This will likely involve implementing multi-factor authentication (MFA), strengthening endpoint security and updating encryption. It must also involve promoting better security awareness among all employees."
Explore Tech Solutions to Legal Firm Challenges
The legal technology, data security, and compliance experts at Messaging Architects understand the challenges law firms face. From cloud migration to information governance, data security and compliance monitoring, they help business leaders evaluate the best solutions to meet law firm needs.
Have you read?
Law Firm Compliance Challenges Underscore Need for Renewed Cyber Security Focus
Gain Control of Business Data to Reduce Costs, Increase Productivity, Inform Decisions, and Improve Security
About Messaging Architects
Messaging Architects specializes in effectively managing and securing an organization's most precious asset, its information. With over 20 years of information management and technology consulting experience, the Messaging Architects team has provided corporations, educational intuitions, health care facilities and nonprofits with methodologies, procedures, and technology to keep their data organized, compliant and secure.
About eMazzanti Technologies
eMazzanti's team of trained, certified IT experts rapidly deliver increased revenue growth, data security and productivity for clients ranging from law firms to high-end global retailers, expertly providing advanced business cyber security, retail and payment technology, digital marketing services, cloud and mobile solutions, multi-site implementations, 24×7 outsourced network management, remote monitoring, and support.
eMazzanti's consistent growth landed them on the Inc. 5000 list 9X. Recognized as a 4X Microsoft Partner of the Year, the #1 ranked NYC area MSP, NJ Business of the Year, and 5X WatchGuard Partner of the Year, the company excels as a trusted outsourced IT partner! Contact: 1-866-362-9926, info@emazzanti.net or http://www.emazzanti.net Twitter: @emazzanti Facebook: Facebook.com/emazzantitechnologies.