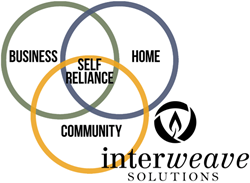 This collaboration will touch thousands of lives.
Provo, UT (PRWEB) November 25, 2014
To advance its mission of moving people from poverty to prosperity through neighborhood self-reliance groups, Interweave Solutions forms partnerships with organizations around the world. Interweave Solutions' newest partner - Mentors International - plans to draw on Interweave's expertise, training and materials to enable thousands of its members in Guatemala and the Philippines to work together to become self-reliant.
Mentors International, a successful micro-finance and mentoring institution in Latin America and Asia and aims to expand its impact and outreach through this new Interweave partnership. During the coming months, Interweave will collaborate with Mentors staff to adapt and translate Interweave materials and training to fit Mentor's unique lending and mentoring system in Guatemala and the Philippines.
All of Mentor's clients are recipients of micro-enterprise loans. Interweave Solutions will enable these participants to thrive in their small businesses and also strengthen their families and communities, they will work together in learning and action groups. In these self-reliance groups, neighbors will help each other increase income, improve their communities and balance their lives.
The training materials that Interweave Solutions provides to Mentors International's participants will help people in three key life areas; business, home, and community. Through education these are all made stronger and people achieve social and economic self-reliance essential to grow and move forward. These successful businesses bring jobs, prosperity and growth to homes and communities.
Lynn Curtis, Interweave co-founder and liaison for the partnership program notes, "Mentors is already an outstanding organization, but the fusion of their loan program with Interweave Solutions' 6P's business training and hands-on group experience will raise their efforts to a much higher level. This collaboration will touch thousands of lives."