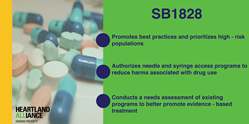 "As overdose rates tragically continue to rise, we must do more to combat the opioid epidemic," said Senator Bush. "The initiatives in the Overdose Prevention and Harm Reduction Act build on successful programs we have seen in Lake County and can make a real difference and save lives."
SPRINGFIELD, Ill. (PRWEB) April 11, 2019
With support from across the political spectrum, the Illinois Senate has approved the Overdose Prevention and Harm Reduction Act, a critical measure needed to address the most devastating impacts of the opioid epidemic. Already the worst public health crisis of this generation, the opioid crisis has led to over 70,000 annual deaths nationwide, with Illinois experiencing almost 3,000 annual overdose deaths and the fastest rate of increase in overdose mortality in Midwest.
This legislation, sponsored by State Senator Melinda Bush (D-31) and supported by Heartland Alliance and other community advocates, seeks to address the worst effects of the opioid epidemic by legalizing needle exchange programs and promoting effective overdose prevention programs across the state.
"As overdose rates tragically continue to rise, we must do more to combat the opioid epidemic," said Senator Bush. "The initiatives in the Overdose Prevention and Harm Reduction Act build on successful programs we have seen in Lake County and can make a real difference and save lives."
A primary element of the bill is legalizing needle exchange programs statewide.
"By joining 22 other states in authorizing needle exchange programs," said Dan Rabbitt, health policy leader at Heartland Alliance, "Illinois will support a proven public health intervention to reduce the spread of blood borne illnesses like HIV, connect individuals to services, and prevent accidental overdose death. These services are desperately needed, particularly in suburban and rural areas that have historically had no access to community-based harm reduction programs."
See the attached press release for full details