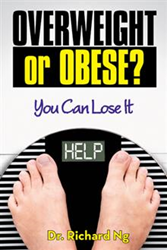 DEKALB, Ill (PRWEB) April 19, 2017
Concerned with the rising amount of obesity in the U.S. and hoping to encourage people around the nation to talk and act on the issue, Dr. Richard Ng wrote "Overweight or Obese?: You Can Lose It" (published by LifeRich Publishing) to help people achieve and maintain a healthy weight.
"Overweight and obese adults make up almost seventy percent of the U.S. population," Ng says. "The statistics for children and young adults are not encouraging either, with seventeen percent of those between two and nineteen years old reportedly obese."
"Overweight or Obese?" explores ways of losing weight, keeping it off and improving health. The book guides readers to identify the causes of being overweight or obese, recognize the risk factors that go along with it, engage in exercise that efficiently burns calories and avoid foods that contribute to weight gain. In addition, the book explains how losing weight can improve sex life, why sugar is a potential poison, how weight gain can result in cognitive impairment and what foods help keep weight under control.
Ng says "I want to impress my readers that healthy weight is important with serious impact in one's life."
"Overweight or Obese?"
By Dr. Richard Ng
Hardcover | 6 x 9 in | 168 pages | ISBN 9781489711489
Softcover | 6 x 9 in | 168 pages | ISBN 9781489711472
E-Book | 168 pages | ISBN 9781489711465
Available at Amazon and Barnes & Noble
About the Author
Dr. Richard Ng is an osteopathic physician with a special interest in nutritional health. Ng currently lives in Dekalb, Illinois. He is the author of two other books: "Mindful Eating" and "Aging: A Healthy Meaningful Journey."
LifeRich Publishing, the strategic publishing partnership of Reader's Digest and Author Solutions, LLC, was created to provide all writers a platform for sharing their stories, recipes, advice and more. LifeRich authors will benefit from a wealth of editorial design, marketing and education resources, specially created by Reader's Digest editors for the enrichment of these LifeSmart individuals. Books can be published in print, ebook or audio formats, with additional distribution to up to 25 million Reader's Digest customers through its online properties. Follow @LifeRichPub on Twitter or "Like" us at facebook.com/LifeRichPublishing for the latest updates.