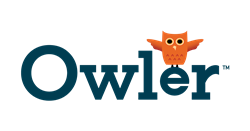 Owler's API rounds out the company's suite of business intelligence solutions that help members stay on top of their industry and outsmart their competition
SAN MATEO, CA (PRWEB) April 28, 2015
Owler, the online and mobile source of free business competitive intelligence, today announced the launch of the Owler API, a data-as-a-service solution that allows sales operations and other business professionals to integrate Owler's invaluable crowdsourced information on more than 10 million companies with their internal business systems. Owler will offer two tiers of API information: a basic Owler API that provides information such as company name, address, phone number, and Website URL completely free of charge, while Owler's fee-based API provides extensive information on company revenue, employees and industry competitors. Owler's API rounds out the company's suite of business intelligence solutions that help members stay on top of their industry and outsmart their competition.
The Owler API will include all the relevant business data fields available on Owler's online company profiles, which include:

Company Background Information: Company ID, Primary Name, Short Name, Website, and Logo (URL)
Company History: Founded Date, Description, and Company Type (Private, Public, etc.)
Company Financials: Ticker Symbol, Stock Exchange listed, Revenue, Employee Count, and Acquisition News
Company Location: Address, City, State, Country, Phone #, and Geo-location data (latitude and longitude numbers)
Company Leadership: CEO Name, CEO Image (URL), and CEO approval ratings
Industry Information: Industry Group, Sector, Competitor, and Competitor News
"Access to the right information at the right time is key to achieving and maintaining a competitive edge," said Jim Fowler, CEO of Owler "Anyone who depends on critical company data, such as Sales Operations looking to integrate information for territory setting with their CRM systems, will find the Owler API invaluable."
Owler's unique crowdsourced information model allows members to vote on data importance and contribute thoughts on competitors and polls of interest about any business. Owler also sources information through news articles, publicly available government documents, press releases, and company-produced collateral. Owler's API will provide data on over 10 million businesses worldwide, which early partners have already found incredibly valuable to their business platforms. The Owler API beta program saw interest from over 100 companies and Owler selected 20 early beta partners to test out the API.
"Owler has been an integral part of the BOB.tv platform," said Tony Lorenz, CEO and Co-Founder of BOB.tv and BETA user of the Owler API. "We pride ourselves in providing Best Of Business industry content to our users in the markets we serve. Owler is helping us provide increasingly relevant and actionable business information to these markets, and soon others as we build our business over time."
To learn more about Owler's API and business intelligence solutions, please visit developers.owler.com.
ABOUT OWLER
Owler is the leading resource for competitive company intelligence and real-time personalized insights into the activities of each member's top competitors. It is a free, disruptive online and mobile service for business leaders, with over 30,000 members who use 10 million company profiles and reports each month to outsmart their competition.
The company was started by serial entrepreneur and crowdsourcing pioneer Jim Fowler, who sold Jigsaw to Salesforce in 2010 at $175 million. The company is backed by Norwest Venture Partners and Trinity Ventures.