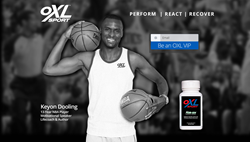 I have enjoyed the incredible benefits of OmegaXL® and I feel great. I worked with Great HealthWorks to create OXL Sport™, a product with even greater potency than OmegaXL® - for people with active lifestyles. - Keyon Dooling, Brand Ambassador
Las Vegas, NV (PRWEB) July 15, 2014
Great HealthWorks is pleased to announce the launch of OXL SPORT™ , a dietary supplement that contains the patented all natural green lipped mussel oil extract, PCSO-524®. OXL SPORT™ contains 30 essential fatty acids including EPA, DHA, ETA and OTA. In clinical studies, the active ingredient in OXL SPORT™ (PCSO-524®) has been shown to support joint mobility and respiratory health, and help minimize delayed onset muscle soreness, the discomfort felt in muscles after strenuous exercise.
"I have enjoyed the incredible benefits of OmegaXL® for over a year and I feel great. I worked with Great HealthWorks to create OXL Sport™, a product with even greater potency than OmegaXL® - for people with active lifestyles." says Keyon Dooling, Brand Ambassador. "Health, wellness, and life balance are incredibly important to me and I am fortunate to be in a position to be able to share my knowledge with others to help them achieve their personal and professional goals."
The launch of OXL Sport coincides with the release of Dooling's first book July 15th in Las Vegas. What's Driving You? How I Overcame Abuse and Learned to Lead in the NBA is his personal account of how he worked hard to triumph over his childhood experiences to become the life coach, mentor, and inspirational figure he is today. Because physical wellness is such an important part of overall wellness, Dooling chose to time the releases together.
About Great HealthWorks
Great HealthWorks is a consumer direct product manufacturer founded in 2003, and provides products and services dedicated to improving the lives and health of their customers and their families. Visit them online at http://www.greathealthworks.com/. Learn more about OXL Sport at http://www.oxlsport.com. Follow them on Facebook at https://www.facebook.com/oxlsport and Twitter at https://twitter.com/OxlSport.
About Keyon Dooling
Keyon Dooling enjoyed a 13-year career in the National Basketball Association. A first-round draft pick of the 2000 NBA Draft, from 2000 – 2012 Keyon played for the Los Angeles Clippers, Miami Heat, Orlando Magic, New Jersey Nets, Milwaukee Bucks, and the Boston Celtics. He also served as an officer in the National Basketball Player's Association. Keyon retired from professional basketball after spending the 2012 – 2013 season with the Memphis Grizzlies.
Keyon is the founder and President of Dooling Enterprises, and is a motivational speaker, life coach, and author. He believes that creating mental, physical, and spiritual balance is the key to personal and professional success. Keyon and his wife Natosha own several other businesses and are actively involved in charitable outreach to children.