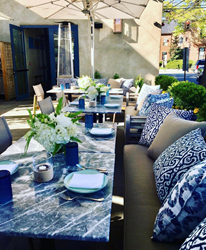 OYSTER BAY, N.Y. (PRWEB) April 22, 2019
It's been over a year since local couple Claudia and Michael Taglich teamed up with Iron Chef winner and celebrated Chef Jesse Schenker to open an exciting restaurant, 2 Spring, in the heart of town (2 Spring Street, Oyster Bay). The landmark building underwent a major renovation to become 2 Spring, a modern American restaurant that brings the hospitality and quality of Manhattan's finest eateries to Oyster Bay. Jesse Schenker, a James Beard-nominated chef best known for his contemporary approach to recreating American classics, transforms familiar favorites and elevates them to a new level at 2 spring.
2 spring is the work of acclaimed architects Smiros & Smiros. The multi-level restaurant includes a stunning zinc top bar and beautiful views of the town square. The incredible space is a blend of refined and eclectic interior styles with brick lime washed walls, tin ceiling, and mid-century flair. The space is also enriched with a gorgeous outdoor garden patio, which will re-open for the season on April 26th, 2019. Bask in the sun or enjoy shade with expansive umbrellas. Outdoor dining will be available for lunch, weekend brunch, & dinner. Drink Rosé (or Frosé) All Day, or enjoy a date night as the sun sets. The space is flanked by heaters to ensure a cozy vibe during evening hours.
Since opening, 2 Spring has been recognized for its impressive beverage program. The restaurant scored a Wine Spectator 2018 Best of Award of Excellence and was noted for its inventory of 2,150 wines with handpicked varieties from all over the world. Schenker has since expanded beverage offerings, including a selection of fine sake available by the glass.
Lunch is served Tuesday - Friday from 12 pm to 3 pm and Dinner is served Sunday - Thursday from 5 pm to 9 pm and Friday and Saturday from 5 pm to 10 pm. Weekend brunch is served Saturday and Sunday from 12 pm to 3 pm. (2 Spring is closed on Mondays). To make a reservation at 2 Spring, please call (516) 624 2411 or visit http://www.2springstreet.com.
###