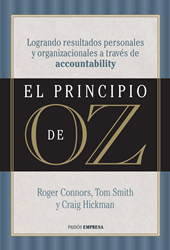 This book introduces to these markets our impactful training and consulting that produces unprecedented sustainable results.
Temecula, CA (USA) (PRWEB) November 13, 2015
Partners In Leadership, in collaboration with Penguin Random House, is pleased to announce the release of their New York Times bestselling book 'The Oz Principle: Getting Results Through Individual and Organizational Accountability' in Spanish. First published in 1994, 'The Oz Principle,' coauthored by Roger Connors, Tom Smith, and Craig Hickman, is the revolutionary work that introduced the vital role of workplace accountability and its impact on performance, employee engagement, and company culture.
"Releasing 'The Oz Principle' in Spanish brings our time-tested positive definition of accountability—which has helped individuals, teams, and organizations achieve dramatic results for nearly three decades—to the rapidly growing Central and South American markets," said Tracy Skousen, president of the international division, senior vice president, and business unit president at Partners In Leadership. "This book introduces to these markets our impactful training and consulting that produces unprecedented sustainable results."
'The Oz Principle' continues to be one of the most popular business books in circulation, recently being translated and published in Russian. The book is already available in two dialects of Chinese, Japanese, Korean, and Polish, and is also expected to be available in German by the end of this year. "This book is in the top 5 bestselling business books in the 'Leadership' and 'Performance' categories, year after year, since 1994," reports Penguin Random House. And it is poised to remain so due to the ongoing demand for new translations of this immensely popular book.
"Thanks to the ongoing support from our publisher, Penguin Random House, our books continue to reach more audiences than we had ever imagined," continued Skousen. "And a special thanks to the business leaders and professionals around the globe who have helped spread the word about the impact that positive accountability has on the workplace and organizational culture."
The Spanish edition of the book is available for purchase at Planeta de Libros website here.
For more information on 'The Oz Principle,' visit the Partners In Leadership website.
About Partners In Leadership
Partners In Leadership® (PIL) is the world's premier provider of Accountability Training® and Culture Change training and consulting services. PIL has enabled thousands of companies and millions of people in more than 100 countries worldwide to achieve dramatic results: billions of dollars in improved shareholder wealth and hundreds of thousands of jobs saved—resulting in some of the highest praised and best places to work in the world.
For further information on Partners In Leadership, visit http://www.partnersinleadership.com or call 800-504- 6070. For press inquiries, contact Michael Marti at michael.marti(at)ozprinciple(dot)com or 951.294.9010 x195.
Partners In Leadership and Accountability Training are all registered trademarks of Partners In Leadership. All other registered trademarks and trademarks used herein are the property of their respective owners.