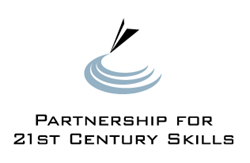 "PBS is proud to join forces with the Partnership for 21st Century Skills," said Rob Lippincott.
Washington, DC (PRWEB) September 17, 2013
The Partnership for 21st Century Skills (P21) welcomes the addition of PBS to P21's Strategic Council. PBS is the latest member to join the diverse cadre of education leaders, business community, and state and federal policymakers involved in P21's work to support student readiness for college, career, and citizenship.
"We are delighted to officially welcome PBS to P21," said Stephan Turnipseed, chair of P21 and president of LEGO Education North America. "PBS has been a long-time friend of P21, and the addition of PBS's leadership in educational media to P21's membership connects our work in powerful ways."
Rob Lippincott, Senior Vice President Education Strategy & Partnerships for PBS will represent PBS on P21's Strategic Council. He will also serve on the Executive Board on P21 in the role of secretary, and serve on the P21 Speakers Bureau.
"PBS is proud to join forces with the Partnership for 21st Century Skills," said Rob Lippincott. "As America's largest classroom, PBS provides educational media and tools to foster critical 21st century learning goals in a variety of settings. We fully believe that the best way to achieve the traditional '3 R's' is to master the '4 C's' of 21st Century Learning."
PBS is a leading source of digital learning tools for preschool teachers and K-12 classrooms with resources to help today's learners build key skills for success. More than 900,000 teachers look to PBS Learning Media for innovative, digital content to engage students and ignite learning.
# # #
About P21
P21 is a national organization that advocates for 21st century readiness for every student. As the United States continues to compete in a global economy that demands innovation, P21 and its members provide tools and resources to help the U.S. education system keep up by fusing the 3Rs and 4Cs (critical thinking and problem solving, communication, collaboration, and creativity and innovation). While leading districts and schools are already doing this, P21 advocates for local, state and federal policies that support this approach for every school. http://www.p21.org
About PBS
PBS, with its over 350 member stations, offers all Americans the opportunity to explore new ideas and new worlds through television and online content. Each month, PBS reaches nearly 120 million people through television and over 29 million people online, inviting them to experience the worlds of science, history, nature and public affairs; to hear diverse viewpoints; and to take front row seats to world-class drama and performances. PBS' broad array of programs has been consistently honored by the industry's most coveted award competitions. Teachers of children from pre-K through 12th grade turn to PBS for digital content and services that help bring classroom lessons to life. PBS' premier children's TV programming and its website, pbskids.org, are parents' and teachers' most trusted partners in inspiring and nurturing curiosity and love of learning in children. More information about PBS is available at http://www.pbs.org, one of the leading dot-org websites on the Internet, or by following PBS on Twitter, Facebook or through our apps for mobile devices. Specific program information and updates for press are available at pbs.org/pressroom or by following PBS Pressroom on Twitter.
P21 Members: Amplify, Apple Inc., Cable in the Classroom, Cengage Learning, The College Board, Common Sense Media, Crayola, Destination Imagination, EdLeader21, EF Education, Education Networks of America, Follett, Ford Motor Company Fund, Goddard Systems Inc., Intel Corporation, JP - Inspiring Knowledge, LEGO Education, National Board for Professional Teaching Standards, National Education Association, PBS, Pearson Foundation, Project Management Institute Educational Foundation, The Walt Disney Company, U.S. Fund for UNICEF, and VIF International Education.
P21 Leadership States: Arizona, California, Illinois, Iowa, Kansas, Kentucky, Louisiana, Maine, Massachusetts, Nevada, New Jersey, North Carolina, Ohio, Oklahoma, South Carolina, South Dakota, Vermont, West Virginia and Wisconsin.