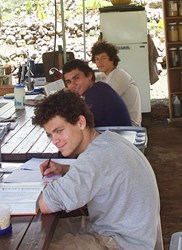 This is a great opportunity for students and we are thrilled to offer academic credit to those who satisfactorily complete their coursework during their stay.
Hilo, HI (PRWEB) November 22, 2013
As a world renowned therapeutic program for struggling adolescents and young adults, Pacific Quest is pleased to announce that students enrolled for at least 8 weeks will be eligible for up to 4 high school credits. For many young people at Pacific Quest, poor academic performance has played a large role in the development of negative coping skills and behaviors. Instead of perpetuating an all-too-common sense of disengaged learning, Pacific Quest inspires young people to play an active role in their education through participation in an experiential community.
Pacific Quest's comprehensive curriculum is designed not only to teach the connection between the physical, mental and emotional issues young people are managing and related insights they are learning, but also to actively engage individuals in learning about the surrounding environment through diverse gardens, the biosphere of Hawaii, the history of the islands and the local culture. Students are immersed in a foundation of learning, through their relationship to the environment and the community and through the development of lifelong learning strategies. Mike McKinney, Executive Director and co-founder, comments, "The academic component at Pacific Quest is very important. This is a great opportunity for students and we are thrilled to offer academic credit to those who satisfactorily complete their coursework during their stay."
While at Pacific Quest's wilderness therapy programs, students begin to develop better organizational and time management skills along with greater confidence in their ability to manage their education. Credit bearing courses include Career and Technical Education-Horticulture Pathway, Health Education–Health Education I and II, Language Arts–English and Language Arts, Physical Education–Lifetime Fitness, Science–Environmental Science and Social Sciences–Hawaiian Culture. In order to earn credits students must satisfactorily complete all of the outlined coursework associated with the curriculum through their academic workbook. Students who earn credits will receive an academic transcript post completion of Pacific Quest.
About Pacific Quest
Pacific Quest is an outdoor therapeutic program for struggling teens and young adults, located on the Big Island of Hawaii. Their wilderness programs offer a clinical, yet holistic approach to treatment, going beyond traditional wilderness therapy and teaching sustainable life skills. Pacific Quest's proprietary therapeutic model is a groundbreaking approach that uses organic gardening to create concrete metaphors for its students as they cultivate their own health and happiness. Pacific Quest provides an environment that allows for a true discovery process for its students, a place that is safe, structured, experiential and natural. Owned and operated by a veteran team of professionals with hundreds of years of combined wilderness program experience, Pacific Quest offers a unique approach to treatment that is individualized for each student.