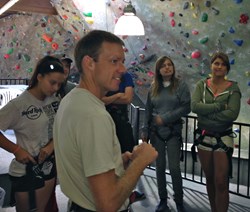 We are thrilled to offer alumni workshops and look forward to upcoming events in other regions.
Hilo, HI (PRWEB) October 31, 2013
This month, Pacific Quest alumni from the past two years, ranging from ages 16-23, reunited at the Hangar 18 rock climbing gym in Los Angeles. The event was facilitated by therapists Mike Sullivan and Kelly Weld, as well as Pacific Quest's Family Services Director Lori Armbruster. Prior to getting started on the climbing, students participated in "ground school," where they learned important climbing commands used to ensure safety between the climber and the belayer. Most alumni knew one or two others present in the group, yet many were meeting each other for the first time. While the alumni were new to each other in many ways, these students had a deeper bond present before even stepping foot into the climbing gym – they had the shared experience of graduating from Pacific Quest, a challenging outdoor therapeutic program in Hawaii.
As a world renowned therapeutic program for struggling adolescents and young adults, Pacific Quest is proud to bring its unique and effective therapeutic approach to families closer to their homes. Suzanne McKinney, co-founder, states "We are thrilled to offer alumni workshops and look forward to upcoming events in other regions. This is not only a great opportunity for Pacific Quest graduates, but their parents as well." These workshops provide a powerful opportunity to refresh, rebuild, and refine communication and parenting skills by providing tangible tools parents can utilize no matter where they are in the therapeutic process. Therapist presenters provide guidance, structure and education as they teach parents how to execute lessons and insights to support their families.
About Pacific Quest
Pacific Quest is an outdoor therapeutic program for struggling teens and young adults, located on the Big Island of Hawaii. Their wilderness programs offer a clinical, yet holistic approach to treatment, going beyond traditional wilderness therapy and teaching sustainable life skills. Pacific Quest's proprietary therapeutic model is a groundbreaking approach that uses organic gardening to create concrete metaphors for its students as they cultivate their own health and happiness. Pacific Quest provides an environment that allows for a true discovery process for its students, a place that is safe, structured, experiential and natural. Owned and operated by a veteran team of professionals with hundreds of years of combined wilderness program experience, Pacific Quest offers a unique approach to treatment that is individualized for each student.