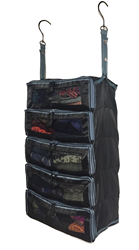 "The more time folks spend unpacking, repacking, and rummaging through their belongings, the less time they have to spend together."
New York, New York (PRWEB) July 27, 2017
As a former Army captain who carried a 80-pound pack in Africa's blistering summer heat, Jonathan Teplitsky understands the challenge of stowing essentials so they're readily accessible. Fueled by their desire for hassle-free travel, Teplitsky and fellow veterans Mark Powers and Ty Lin have launched the Super PACK, the newest product offering from PACK Gear (http://www.ThePackGear.com). Calling Super PACK the ultimate hack for family vacations, Teplitsky said, "The more time folks spend unpacking, repacking, and rummaging through their belongings, the less time they have to spend together. With the Super PACK, families have what they need at their fingertips, enabling them to enjoy every minute of their vacations."
The Super PACK organizer features five collapsible, zippered compartments that expand to 22.5" x 14.5" x 7", a size perfect for organizing luggage. Tethered to hooks that can be hung on anything from a hotel closet rod to a tree branch, the Super PACK makes it a breeze to get settled. "Our goal was for folks to be able to unpack in six seconds," said Teplitsky. "Mission accomplished."
This latest product complements PACK Gear's existing line of travel organizers, which expand to 18" x 9" x 7", yet are lighter than a T-shirt and fit into a manila envelope. "The Grab and Go" and "Carry-On Traveler" have three compartments with mesh windows and a fourth solid compartment, offering at-a-glance orderliness. The organizers fit into duffle bags and backpacks, but do double duty as airplane carry-ons for family must-haves. "Families with babies can stow diapers, wipes, and bottles, while those with older children can have a central hub for toys, books, and snacks," said Teplitsky.
According to AAA, 35 percent of Americans are embarking on at least one family vacation this year, with destinations ranging from national parks to theme parks. Teplitsky and his team created the Super PACK in response to these customers' requests. "Folks traveling with families asked for a bigger PACK that would keep more items organized," he said. "The Super PACK is our answer." Whether traveling by car, RV, or plane, the Super PACK offers a practical alternative to traditional packing strategies.
PACK Gear accessories make the company's organizers even more versatile and family-friendly. A backpack strap transforms a PACK into a day bag, while a compression strap shrinks a PACK's footprint by up to 50 percent. According to Teplitsky, "Our most popular add-on among families is the laundry hamper." The laundry hamper, a mesh bag that hangs below the PACK, features an attached spandex "cape" that compresses dirty clothes and provides odor protection.
Whether a couple and their children are trekking across the country on a classic road trip or a multigenerational group is experiencing the wonders of a distant land, family vacations should be memorable for all the right reasons. "Packing should be the least of a family's concerns," said Teplitsky. "The Super PACK is the next logical step in expanding our ecosystem of products so that every minute of every family vacation can be lived to the fullest."
______
About PACK Gear
A veteran-owned business, PACK Gear was founded in 2015 by Jonathan Teplitsky and three other Harvard alums who shared a passion for outdoor adventure and traveling the globe. The PACK team is dedicated to helping explorers of all kinds keep themselves organized and travel at the speed of life.
Contact:
Jonathan Teplitsky
708.808.7225
http://www.ThePackGear.com