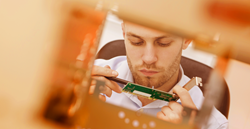 "Cloud computing is cutting-edge, and even mid-sized companies are jumping on the bandwagon."
Seattle, WA (PRWEB) May 27, 2015
Scalable IT infrastructures are a necessary part of what allows for a safe and strong business expansion. Many businesses have begun to outgrow their IT support systems, and they don't find out until it's too late. In their latest article, PacketDrivers takes a look at 5 keys to business IT scaling so that business owners can identify whether their IT system needs work.
The first necessary component of scalable IT infrastructure is for the business to embrace cloud-based services. Not only does this allow executives and employees to access the systems remotely, but more space can easily be added without the hassle of setting up additional servers and installing new hardware. The article explains that, "Cloud computing is cutting-edge, and even mid-sized companies are jumping on the bandwagon."
An additional key to a scalable IT support system is a set of established deadlines for necessary computing upgrades. The article describes common scenarios, such as when, "The company wants to upgrade to Server 2012 or IE8, only to be told by their IT team that their server system won't support those programs." To avoid this problem, PacketDrivers suggests that scalable IT systems are run by teams that set up schedules and deadlines for old system repairs and improvements.
Scaling a business can be a difficult task if executives and employees have not established a clear workflow. The article recommends that businesses, "Build a workflow list of future upgrades, modifications that should be made down the road, plans for expansion, or new hardware to implement once the business has reached a certain operational threshold."
To help businesses reach their businesses goals and meet their IT needs, PacketDrivers IT Outsourcing offers free consultations to business owners who are interested in learning how IT Outsourcing can best fit their IT needs. For more information, visit their website at http://www.packetdrivers.com.
About PacketDrivers IT Outsourcing:
PacketDrivers IT Outsourcing is a Seattle-based company that provides managed IT services for businesses in the greater Seattle area. Their services provide businesses with a unique, strategic, reliable, and efficient approach to IT support. As a result, they're able to decrease downtime, increase performance, and plan for the future needs of the business. Their business-oriented approach to IT service ensures that the administration stays informed and can be confident in all aspects of their company's IT structure and functionality. To learn more about the services that PacketDrivers IT Outsourcing offers, visit their website.
PacketDrivers IT Outsourcing
1908 Minor Ave
Seattle, WA 98101
206.547.7291
http://www.packetdrivers.com