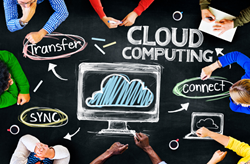 Cloud computing enables businesses to increase flexibility, affordability, connectivity, scalability, and improved collaboration.
Seattle, WA (PRWEB) November 26, 2014
Cloud computing is, in many ways, the next step for businesses looking to stay up to date and efficient in today's ever-changing technological world.
A recently released article from PacketDrivers IT Outsourcing explains the concept of Cloud computing, as well as the many benefits that businesses can experience by moving some of their systems onto the Cloud and integrating their IT business model with Cloud components.
While most people are somewhat familiar with certain aspects of Cloud computing, such as emails and instant messaging programs, the full capabilities available to businesses by utilizing Cloud computing are often not fully realized by smaller businesses, according to the article, "Cloud computing services are actually available for small businesses now on a wide scale, and, thanks to this increase in use, the prices are steadily declining."
To learn more about PacketDrivers IT Outsourcing's hybrid Cloud computing IT solutions, visit their website: http://www.packetdrivers.com/
The article lists the many benefits of Cloud computing, including flexibility, affordability, better connectivity, scalability, ease of access, improved collaboration, and access to automatic updates for various systems.
PacketDrivers explains the imperative nature of integrating your business with the expanding industry of Cloud technology, saying, "Here is the reality - small businesses need widespread IT support to stay flexible, mobile, and able to compete with large corporations that have their own teams and internal applications. Cloud computing services can give them this enterprise-level structure."
In a constantly changing technological environment, it's crucial for businesses to step up to the plate when helpful system improvements rise to the top of the market. PacketDrivers IT Outsourcing is focused on helping small and large businesses alike make that transition in order to stay competitive and efficient in today's business world.
About PacketDrivers IT Outsourcing:
PacketDrivers IT Outsourcing is a Seattle-based company that provides managed IT services for businesses in the greater Seattle area. Their services provide businesses with a unique, strategic, reliable, and efficient approach to IT support. As a result, they're able to decrease downtime, increase performance, and plan for the future needs of the business. Their business-oriented approach to IT service ensures that the administration stays informed and can be confident in all aspects of their company's IT structure and functionality. To learn more about the services that PacketDrivers IT Outsourcing offers, visit their website.
PacketDrivers IT Outsourcing
1908 Minor Ave
Seattle, WA 98101
206.547.7291
http://www.packetdrivers.com