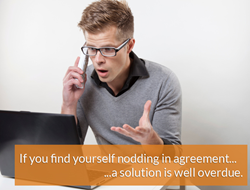 Businessmen and CEO's, heads up—this article should be catching notice.
Seattle, WA (PRWEB) August 15, 2014
PacketDrivers IT Outsourcing recently released an amusing and revealing article that hits the nail on the head when it comes to all too common IT frustrations that many companies face.
How many business people have been on hold for an hour with their helpdesk? How many employees have been given the opportunity to hold an office party because the systems went down again, as the employer watches with dismay as money literally trickles out of his business?
Anyone who deals with technology on a regular basis can identify with the pain and suffering of a business with poor IT support as described by PacketDrivers IT Outsourcing. Their experience and impressive track record even prompts them to boast a little about their abilities—
"The fact is, we are one of the best IT service companies out there. How do we know? Because of you, our clients. We've been astonished time and time again from reports about their previous IT vendors' services. Because we do things differently—we do things better."
To learn more about PacketDrivers IT services, simply follow this link to their homepage: http://www.packetdrivers.com/.
The article gives warning signs that all businesses can commiserate with, such as; IT support focuses on patching up problems instead of preventing them; IT team appears to be allergic to good customer service; IT vendor doesn't support the technology needed for good business; IT support that is glacially slow to respond.
Businessmen and CEO's, heads up—this article should be catching notice.
About PacketDrivers IT Outsourcing:
PacketDrivers IT Outsourcing is a Seattle-based company that provides managed IT services for businesses in the greater Seattle area. Their services provide businesses with a unique, strategic, reliable, and efficient approach to IT support. As a result, they're able to decrease downtime, increase performance, and plan for the future needs of the business. Their business-oriented approach to IT service ensures that the administration stays informed and can be confident in all aspects of their company's IT structure and functionality. To learn more about the services that PacketDrivers IT Outsourcing offers, visit their website.
PacketDrivers IT Outsourcing
1908 Minor Ave
Seattle, WA 98101
206.547.7291
http://www.packetdrivers.com