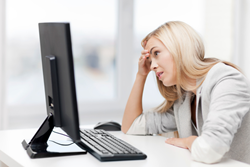 An IT team needs to provide clear consistent communication, prompt responses, cutting edge technology, and the ability to safely protect and store business data—all this at the minimum.
Seattle, WA (PRWEB) August 31, 2014
In a humorous new article from PacketDrivers, business CEO's and executives are given an anecdotal and head-shakingly accurate comparison of their own IT tech and an IT outsourcing team.
The article begins by describing the 'average' company's IT tech, before launching into the reasons that trading out an IT tech for an outsourced IT team is not only going to provide more services for money spent, it will actually be more cost-effective and help the business progress forward.
"We have a team of over a dozen IT engineers," says PacketDrivers, "Each one has years of experience and study under their belts, and each has their own areas of additional expertise. And the services and skills of all of our staff are available to you as a replacement for your own swamped or ineffective IT tech."
To learn more about their IT services, follow this link to their website: http://www.packetdrivers.com/.
PacketDrivers unabashedly provides businessmen with a frank list of their IT skills and services. Their article highlights the key pain points that frustrate many executives about their own IT department, such as clear and consistent communication, prompt responses, cutting edge technology, ability to safely protect and store business data, and more.
They put it this way, "When you talk to us, you'll discover that we are real people that use a normal vocabulary that you can understand. We don't wait around to fix issues when they arise—we actively work to prevent them in the first place."
"If they do occur," they continue, "We don't just put a bandaid on the issue. We fix it so that it won't keep happening. Not only that, we view it as our responsibility and privilege to give your staff training on their systems and technology."
When working with PacketDrivers, it's apparent that "instead of worrying about your software, you can worry about growing your business." Aren't these the words every CEO wants to hear from their IT techs?
About PacketDrivers IT Outsourcing:
PacketDrivers IT Outsourcing is a Seattle-based company that provides managed IT services for businesses in the greater Seattle area. Their services provide businesses with a unique, strategic, reliable, and efficient approach to IT support. As a result, they're able to decrease downtime, increase performance, and plan for the future needs of the business. Their business-oriented approach to IT service ensures that the administration stays informed and can be confident in all aspects of their company's IT structure and functionality. To learn more about the services that PacketDrivers IT Outsourcing offers, visit their website.
PacketDrivers IT Outsourcing
1908 Minor Ave
Seattle, WA 98101
206.547.7291
http://www.packetdrivers.com