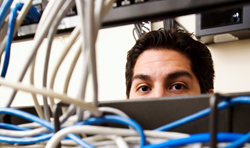 Does your IT team have a good strategy in place that will build a solid foundation for future changes, improvements, and developments in the industry.
Bellevue, WA (PRWEB) October 31, 2014
CEOs, CFOs, and other executives are often discouraged by the fact that the work done by their IT service doesn't appear to be based on any comprehensive strategy, nor is it integrated into the overall goals of the business.
In response to this frustration, PacketDrivers IT Outsourcing released an article advising why it is vitally important for a company or corporation to align IT support services to their business goals.
Scott Hamlin explains that many executives observe that, "Breakage continues, problems keep occurring, and the IT tech is always well overwhelmed with work to do."
"But, what exactly is going on over there in IT?" he continues, "Is that service moving business goals forward? Is there a good strategy in place that will build a solid foundation for future changes, improvements, and developments in technology?"
Scott Hamlin continues to explain that there are three key aspects of aligning IT to a company's business goals. First, unnecessary expenditures should be cut. If a project simply isn't adding value to the business, it should end immediately.
Secondly, the current services that are adding value should be a priority, and they should include comprehensive fixes that will keep systems running well for months to come, rather than simply putting a bandaid on a problem that will continue to occur.
Thirdly, the IT service should plan with the future in mind, operating from a clear strategy for where the business is heading in future months or years.
In conclusion, Scott Hamlin says, "This is what it means to align IT to your business goals. A comprehensive strategy, focused on efficiency and preplanning, will keep unnecessary costs low and business progress high."
"For those struggling with sub-par IT service," he continues, "Please give PacketDrivers IT Outsourcing a call. Let's get your business moving forward."
About PacketDrivers IT Outsourcing:
PacketDrivers IT Outsourcing is a Seattle-based company that provides managed IT services for businesses in the greater Seattle area. Their services provide businesses with a unique, strategic, reliable, and efficient approach to IT support. As a result, they're able to decrease downtime, increase performance, and plan for the future needs of the business. Their business-oriented approach to IT service ensures that the administration stays informed and can be confident in all aspects of their company's IT structure and functionality. To learn more about the services that PacketDrivers IT Outsourcing offers, visit their website.
PacketDrivers IT Outsourcing
1908 Minor Ave
Seattle, WA 98101
206.547.7291