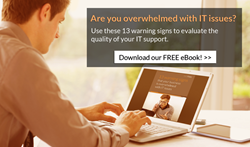 If you are experiencing any of these warnings signs, consider yourself warned that your business is struggling with some severe IT issues.
Seattle, WA (PRWEB) November 07, 2014
PacketDrivers IT Outsourcing, a Seattle based IT support company, recently released a comically accurate eBook highlighting the areas of failed IT support which indicate the current IT team is on a downward slope or simply overwhelmed with too much to handle.
The eBook hits the nail on the head when it describes the all too common IT frustrations that many businesses and companies face on a regular basis.
While some warning signs are entirely relatable, others are startling. Surprisingly enough, some businesses may not even have realized that their business is experiencing these warning signs, which are resulting in serious problems.
Businessmen and CEO's, heads up—this download should be catching notice.
Some examples that the eBook gives of the most common warning signs that an IT team isn't up to scratch are communication issues, long wait times for service, systems that experience frequent problems, and virus issues. Many of these problems causes the company's revenue to drain away, as they miss calls, lose leads, experience customer service problems, or watch helplessly as production slows.
As virtually all businesses deal with technology on a regular basis, most can probably identify with the frustrations and concerns that result from having these warning signs cropping up in their offices and workplaces.
PacketDrivers IT Outsourcing's spot-on descriptions of these common IT errors and the resulting dismay felt by the office staff are comically accurate, and their experience and impressive track record gives weight to their statements.
"We've spent years listening to our clients about frustrations that they've had with prior IT companies. With every comment and criticism, we've been able to hone our services, both strategic goal oriented and day-to-day care. How do we know that we're one of the best? Because we've spent years training ourselves to do things differently—to do things better. "
To learn more about PacketDrivers IT services, simply follow this link to their homepage: http://www.packetdrivers.com/
About PacketDrivers IT Outsourcing:
PacketDrivers IT Outsourcing is a Seattle-based company that provides managed IT services for businesses in the greater Seattle area. Their services provide businesses with a unique, strategic, reliable, and efficient approach to IT support. As a result, they're able to decrease downtime, increase performance, and plan for the future needs of the business. Their business-oriented approach to IT service ensures that the administration stays informed and can be confident in all aspects of their company's IT structure and functionality. To learn more about the services that PacketDrivers IT Outsourcing offers, visit their website.
PacketDrivers IT Outsourcing
1908 Minor Ave
Seattle, WA 98101
206.547.7291
http://www.packetdrivers.com