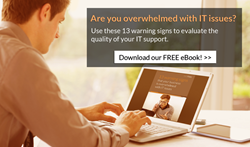 Seattle, WA (PRWEB) October 16, 2014
While everyone struggles with some basic IT problems, should it be the norm? PacketDrivers IT Outsourcing doesn't think so.
Their recent article, "IT Support Problems and How You Can Prevent Them" talks about the common problems a business faces when it comes to IT. The real problem occurs when these ongoing issues aren't resolved in a way that prevents them from recurring.
One of their examples is updated virus protection. How frequently are systems updated with new virus software?
PacketDrivers states, "A good IT team will be consistently running virus tests and anti-virus installs and updates. Users should be protected from any spyware infections and from spam email. Staff computers should be updated on a regular basis with MS updates."
The point that PacketDrivers emphasizes is that patching up problems simply isn't enough—a good IT team is working to fix current problems and then prevent them from occurring again in the future.
Whether this takes new software, newly designed software, or more thoughtfully implemented fixes, it's the job of an IT team to make a business run better than it was the day before.
"When issues consistently arise, it distracts and inhibits your staff from being able to achieve all that they can, possibly deters customers, and causes you a massive headache," says PacketDrivers, "Having an IT support team keeping your business, your systems, and your employees well-protected from IT issues is invaluable when it comes to helping your company move forward."
About PacketDrivers IT Outsourcing:
PacketDrivers IT Outsourcing is a Seattle-based company that provides managed IT services for businesses in the greater Seattle area. Their services provide businesses with a unique, strategic, reliable, and efficient approach to IT support. As a result, they're able to decrease downtime, increase performance, and plan for the future needs of the business. Their business-oriented approach to IT service ensures that the administration stays informed and can be confident in all aspects of their company's IT structure and functionality. To learn more about the services that PacketDrivers IT Outsourcing offers, visit their website.
PacketDrivers IT Outsourcing
1908 Minor Ave
Seattle, WA 98101
206.547.7291
http://www.packetdrivers.com