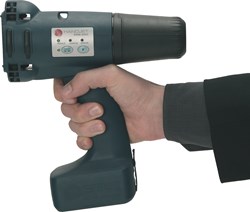 Libertyville, IL (PRWEB) September 16, 2013
EBS Ink-Jet Systems USA, Inc., a leading manufacturer of innovative high-speed contact-free printing and coding solutions serving the packaging industry throughout all of North, Central and South America, looks forward to exhibiting their EBS-6500 Series Small Character, Continuous Ink-Jet System and EBS-250 HandJet printers in booth S-5615 at Pack Expo Las Vegas, September 23-25, 2013.
Fast ink bottle changeovers are easy with the EBS-6500. It features a proprietary iModule® reservoir that uses quick-release ink and solvent containers that are changed in a matter of mere seconds. Its touch-screen display prints startling crisp, multi-lingual alphanumeric text and bar codes for exacting in-line product and package coding.
The innovative EBS-250 HandJet printer is the ultimate lightweight compact handheld printer. It weighs in at less than two pounds including its on-board rechargeable battery and ink cartridge.
The EBS-250 provides fast, clean printing on a variety of corrugated materials including metal, glass and plastic substrates.
EBS will also be displaying a new EBS-260 HandJet printer prototype. This revolutionary new printer features high quality logo printing and up to 4 lines of information at one time. Its full color touchscreen displays the message being printed and battery level. It stores up to 1,000 messages, has an ergonomically-friendly handle and can be mounted on a production line. The printer will be available at the end of the year.
EBS Ink-Jet Systems USA, Inc. is a leading supplier of high performance industrial ink-jet printers and consumables. EBS contact-free printing systems are successfully used in a wide variety of industrial and service applications where there is a need to mark moving objects.
For more information, please contact: EBS Ink-Jet Systems USA, Inc., 1840 Industrial Drive, Suite 200, Libertyville, IL 60048 Office: (847) 996-0739 Fax: (847) 996-0843 Email: America(at)ebs-inkjet(dot)com, http://www.ebs-inkjet-usa.com.