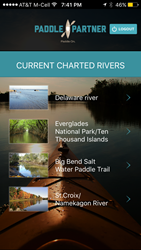 Paddle On!
Hicksville,NY (PRWEB) April 05, 2017
Long gone are paper maps. With the rise of the water-proof mobile devices marks the beginning of mobile dominance in Paddle Sports. Wendel Technologies Inc., the creator of Paddle Partner, recognized this leading technology and decided to provide a mobile solution to Paddle Sports participants in order to capitalize this ever-growing niche.
Today's river navigator can now enjoy trailing the water with Paddle Partner's smart-device data. Canoeing and Kayaking enthusiasts can plan their river trips ahead of time or during their trip using "the Pocket Map" without needing Wi-Fi or Cellular data on the water. This means users can find accurate paths on the desired trails without worrying about Internet connection and cell phone reception, allowing for a much more enjoyable, frustration-free, and absolutely safe experience.
All kayaking maps are in real-time making Paddle Partner the go-to application to access destination trails like the Everglades National Park, the Big Bend Salt Water Paddling Trail, Delaware River, St. Corix River, and the Namekagon River. The latest upgrade to the original version includes the much anticipated preparation maps and a list of new features.
Users can enhance their paddling experience through knowing their real-time distance to and from their desired destination, their average and maximum paddling speed, the location of all campsites on the paddle trail and other detailed statistics of the entire trip.
Wendel Technologies Inc. created Paddle Partner. The mission was simple: to significantly enhance the experience for canoeing and kayaking lovers by providing technology on the water. They said, "Being able to leave paper maps behind and rely on a smart device can make the entire experience that much more rewarding." This is why they made sure that all maps were available in real-time regardless of whether there was an Internet connection or not. They also have stated that "there is nothing more important than a paddler's safety and that knowing where you are at all times is key to ensuring one's safety."
They also plan on creating an Android version in the upcoming future.
The latest Paddle sports information shows vast growth according to a 2015 report distributed by Coleman, the Outdoor Foundation, and others. History has shown a significant increase in involvement of sports such as rafting, kayaking, canoeing and tubing – a 10 percent increase between 2010 and 2014.
To learn more about the destinations, the specific features and the future planned updates, visit the website at http://www.paddlepartner.com/
About Paddle Partner:
Paddle Partner App is go-to app for fans of kayaking and canoeing that are looking for real-time online and offline navigation maps while on their favorite paddling trails.