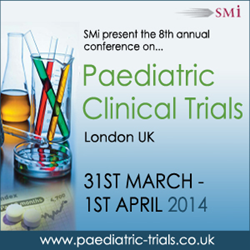 "Good presentations and important topics" - Abbott
London, UK (PRWEB UK) 14 November 2013
In June 2013, the European Commission published a report on the first five years of The Paediatric Regulation which identified some areas for improvement in the paediatric medicines landscape such as better and safer research, more medicines for children on the EU market and more information for parents and health professionals. Source: http://ec.europa.eu/health/human-use/paediatric-medicines/developments/
Following on from this, SMi are have released the agenda for their 8th annual conference on Paediatric Clinical Trials. This event comes at the perfect time to discuss global paediatric legislations which will include a spotlight on the latest draft guidance from the FDA and EU paediatric legislations.
Paediatric Clinical Trials 2014 will bring together key opinion leaders to provide attendees with an in depth look into current advances in paediatric clinical trials and drug development with a complete view of the paediatric market.
As well as analysing regulatory requirements, Paediatrics in Clinical Trials will also focus on challenges in clinical trials design, formulation development, extrapolation form the adult population plus much more. For further details visit the event homepage at http://www.paediatric–trials.co.uk.
Key Speakers will include:

Bruno Reigner, Senior Clinical Pharmacologist, Roche Pharmaceuticals
David McIntosh, Global Scientific Affairs Senior Expert, Novartis Vaccines
Philippe Auby, Director, International Clinical Research, Paediatric Neuro-Psychiatry, Lundbeck
Christina Bucci-Rechtweg, Head, Maternal & Paediatric Regulatory Policy, Novartis
Klaus Rose, CEO, Klausrose Consulting
Elin Haf Davies, Director & Founder, Empowering Children | Enabling Research
Daniel Bar-Shalom, Associate Professor, University of Copenhagen
Daniel De Wolf, Director - Department of Paediatric Cardiology, Ghent University Hospital
Karl-Heinz Huemer, Scientific Office, Austrian Agency for Health and Food Safety
Otto Skoran, CEO, Svabhegy Paediatric Hospital
Mark Sorrentino, Executive Medical Director, PPD Consulting
Previous installments received positive feedback from the industry including, "Good presentations and important topics" – Abbott, "I very much enjoyed this conference, thanks to the organisers" – UCB and "Very good meeting" - Boehringer Ingelheim
The conference agenda is available to download online at http://www.paediatric–trials.co.uk.
Paediatric Clinical Trials
31ST MARCH – 1ST APRIL 2014
The Kensington Close Hotel, London UK
http://www.paediatric–trials.co.uk