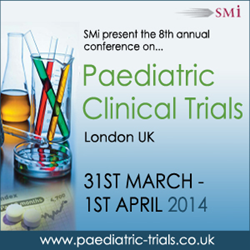 "PIP procedure can become a serious potential obstacle in drug development...this conference will be a key event to discuss industry experience with the PIP procedure and lessons learned" - Dr Klaus Rose
London, UK (PRWEB UK) 11 December 2013
The session on regulation will take place on day one and host 6 presentations covering the EMA Report, the EU Commission Report, PIP Submission requirements, the FDASIA and regulatory buy ins.
Paediatric Clinical Trials 2014 will provide a forum for attendees to:

Share ideas with industry leaders to identify cutting-edge developments including innovative ideas for rare diseases, latest advances in cardiology drug development in children, new methods for clinical studies in paediatrics and model-based paediatric drug development.
Strategize – Hear case studies from major pharmaceutical companies addressing PIP submission requirements, the Paediatric Study Plan (PSP), extrapolation and paediatric clinical trial strategies used by Novartis and Hoffmann-La Roche
Minimise costs – identify issues to help prevent approval delay and key factors that influence study design to optimise operational execution of paediatric clinical trials.
Regulation - Discuss global paediatric legislation's and the impact of EU legislation.
Increase Patient Recruitment – attendees will discuss how to optimise effective communication with parents and children to increase recruitment and learn the difference between consent and assent.
Peer to peer networking – Paediatrics 2014 will include 6 sessions allowing attendees to network including 2 networking lunches, 2 morning coffees breaks and 2 afternoon tea's.
Key Speakers will include Roche Pharmaceuticals, Novartis, Paediatric Neuro-Psychiatry, Lundbeck, Klausrose Consulting, University of Copenhagen, Ghent University Hospital, Austrian Agency for Health and Food Safety, Svabhegy Paediatric Hospital, PPD Consulting plus many more.
For the conference agenda visit http://www.paediatric-trials.co.uk
For those wishing to attend there is currently an early bird rate of £300 which expires on 20th December 2013.
Paediatric Clinical Trials
31st March & 1st April 2014
The Kensington Close Hotel, London, UK
http://www.paediatric-trials.co.uk