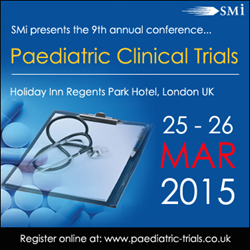 London, United Kingdom (PRWEB UK) 24 February 2015
MHRA Assessor, Susan Cole, will join the expert panel at the 2 day event centred on the formulation of medicines for children.
The presentation entitled: Population pharmacokinetic and physiologically based pharmacokinetic modelling in paediatric regulatory submissions, will discuss the optimisation of clinical trial design and drug dosage for paediatric patients. Insight will also be given on input parameters and the verification of models for submission qualification.
Regulation for paediatric research and drug development will be a major focus for the 2015 agenda and will also include informative case studies from The Paediatric Committee (PDCO), Astra Zeneca, GSK and the NIHR. Click here for details.
Early indications predict this will be one of the most popular shows in SMi's Paediatric portfolio of events with confirmed attendees from:
Appletree CI Group AG, AstraZeneca, Celgene International, Empowering Children - Enabling Research, GSK, Janssen, KAIMRC, klausrose Consulting, Lundbeck, Medicines for Children Research Network (MCRN), MHRA, Nadia Medical Center, Novartis Pharmaceuticals
Novartis Vaccines, NovImmune SA, Novo Nordisk, Paediatric Research Consultancy, PharmaLex, Roche, TAKEDA, The Medicines Evaluation Board , UCB BioSciences, Universita Di Pavia, Universitair Ziekenhuis Antwerpen, University of Copenhagen, plus many more
For further information or to book a place, visit http://www.paediatric-trials.co.uk
9th annual Paediatric Clinical Trials Conference
Reviewing the latest developments in the formulation of medicines for children
25th & 26th March 2015
Holiday Inn Regents Park Hotel, London UK
http://www.paediatric-trials.co.uk
--- END ---
About SMi Group:
Established since 1993, the SMi Group is a global event-production company that specializes in Business-to-Business Conferences, Workshops, Masterclasses and online Communities. We create and deliver events in the Defence, Security, Energy, Utilities, Finance and Pharmaceutical industries. We pride ourselves on having access to the worlds most forward thinking opinion leaders and visionaries, allowing us to bring our communities together to Learn, Engage, Share and Network. More information can be found at http://www.smi-online.co.uk