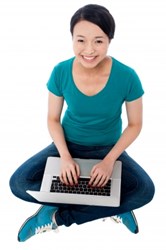 Some companies are paying large dividends to experts who are able to complete surveys that are accurate and completed on time.
Cleveland, Ohio (PRWEB) August 11, 2013
The Not About Money company is now using its paid surveys website to train survey experts online, according to the iNewsReel.com website. Full details about the company training can be accessed online at http://www.inewsreel.com/2013/08/10/paid-surveys-company-now-trains-survey-experts.
Only 32 percent of all consumers complete surveys after purchasing online, according to published data by the Super Surveys company.
Businesses spend millions of dollars on advertising campaigns and use surveys to gauge success of products.
"We started over 12 years ago and have emerged as a top resource for consumers to link with companies offering surveys for compensation," said Julie Hebron, marketing director for the Not About Money website.
Consumers who are experts at social media and understand marketing online can excel as survey takers, according to labor statistics reports.
The new training offered online by the http://www.notaboutmoney.com company is designed to take a person interested in completing surveys to a full fledged expert within a one-month period of time.
"Some companies are paying large dividends to experts who are able to complete surveys that are accurate and completed on time," Hebron added.
One issue with free online survey generation tools is the lack of data metrics that are provided. Companies can generate a simple survey, but have no way to trace the results and completion rates of consumers.
The companies that are now actively seeking men and women to take surveys are based in all regions of the world. New companies are added to the secure training area each week on the NotAboutMoney.com website where trained experts can get first pick of what companies to work with.
The paid survey options that are presented online are designed to compensate men and women for their time while they perform valuable research for large and small companies.
An instant sign up box is now located on the Not About Money homepage that allows interested consumers to sign up and access the survey training materials.
About NotAboutMoney.com
The NotAboutMoney.com company specializes in survey distribution and acquisitions online. The owners of this company launched this resource over 12 years with worldwide acclaim. Men and women from U.S and foreign countries access the surveys and educational materials that are presented on this website.
About iNewsReel.com
The iNewsReel.com company promotes breaking news and information to consumers through its media partners online. This company syndicates its news feeds to thousands of outlets when news is first breaking online. Company writers and researchers work daily to find news that is not published elsewhere online.